Cottonelle More is Better: Dreaming of More During the Holidays
This is a sponsored post written by me on behalf of Cottonelle.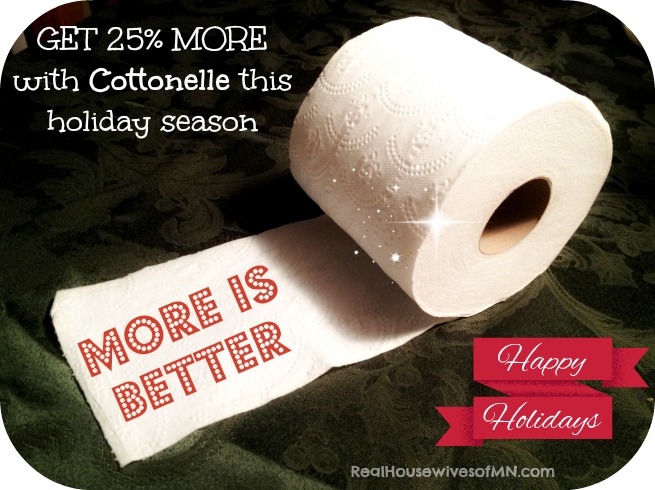 Is it just me or does it seem like everything goes into fast forward speed around the holiday season? With the rush-rush-rush mentality, we are all hustling around to get presents, bake cookies, decorate the house, and spend time with family and friends. So it's no surprise that when it comes to what I would like 25% more of this year is; TIME.
Just imagine if there were 6 extra hours in every day! I'd get so much done! Let's make all of that happen.
I'd be able to meet up with friends to just enjoy a little coffee date. I'd have time to sit down and have a nice, big meal with my family every night, plus, I'd even have time to go to the gym and work off all those Christmas cookies that I'd be eating (since I'd have the time to bake them!) Yes, that would be amazing.
Well you might not get 25% more time this holiday season, but you can get 25% more when it comes to bathroom tissue. Did you know that Cottonelle has 25% more sheets on a roll than their competitors?
Just like the extra 6 hours you would add with 25% more time in your day, the different it makes to get the 25% extra in your toilet paper makes just as drastic of a difference!
Just think, what would you want 25% more of this year?
Of course, there are close seconds when it comes to what I would want more of during the holiday season. The obvious answer would be money, food, or even sunshine (because, come on, I live in Minnesota!)
Get Even More: Pinterest Promotion!
Cottonelle is running a Pinterest promotion right now that runs from December 9th until December 20th, 2013. You can enter their promotion daily.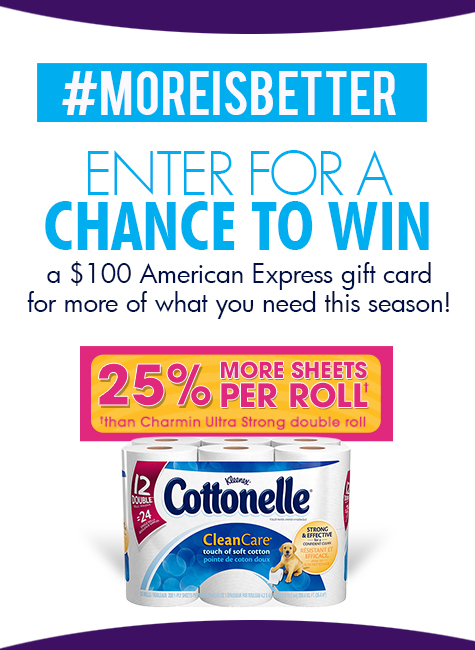 Each day, one winner is chosen to win a $100 American Express gift card! Find the daily winner announcements on the SITSGirls Facebook Page!
Be sure to enter the promotion here: http://on.fb.me/18vq2QP. You can also keep up with the conversation on Twitter with #MoreIsBetter.
Best of luck in the contest, and here's to a very merry holiday season!!
Hearts,
Sarah
This is a sponsored post written by me on behalf of Cottonelle.