Big Huge Exciting Announcement!
A couple weeks ago on Twitter, I teased that I had big news for you guys! And I'm excited to finally share it with you 🙂 So excited in fact, that I had to make a video so that I could break the news to you all "in person"!
Yes, you heard me right… we are expecting! As of today, I am 17 weeks pregnant, and my due date is June 9th, 2015 as of right now but I'm hoping that gets bumped up at our 20 week appointment – you know, the one where we will find out the gender!!
I'm so excited, although my hunch is that it is a girl… but for no particular reason so it really is 50/50 when we go into the doctor that day!
This weekend we just started to clean out what will be the baby's room, and boy is that a task! I now have to find a new home for my purses and sewing machine and everything that goes with it. I'm thinking the basement will make a good alternative at this time 🙂
When we first announced the news to our families, we created a fun little photo (this was in October, near Halloween):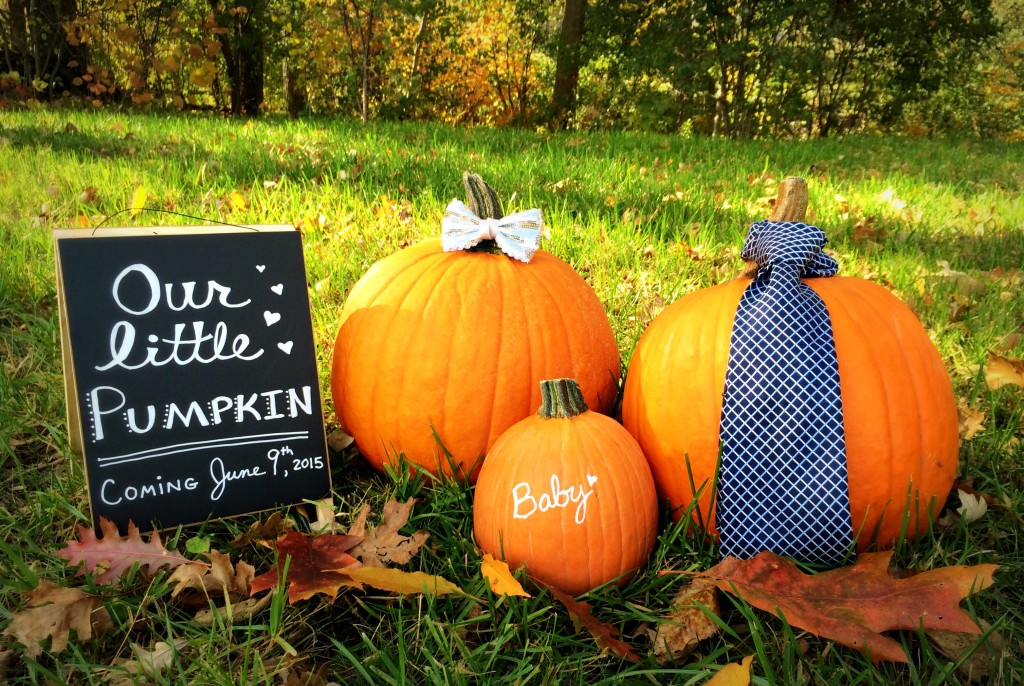 We framed it and gave it to them as a gift. Both of our families were left in tears and just so excited for a new little addition to the family. And of course, I was a mess of tears as well – I could not be any more excited!
That's all the news that I have for now. When we find out the gender (mid-January), we are planning on hosting a little gender reveal party so I'm sure that will probably be my next baby-related post 🙂 So exciting!!!
So until then, stay tuned!!
Hearts,
Sarah

Don't miss a beat! Subscribe here for email updates and get a weekly roundup of my latest posts!