My Papa Murphy's Experience: Exclusive Sneak Peek in the Kitchen
This experience was provided by Papa Murphy's. All opinions are 100% my own.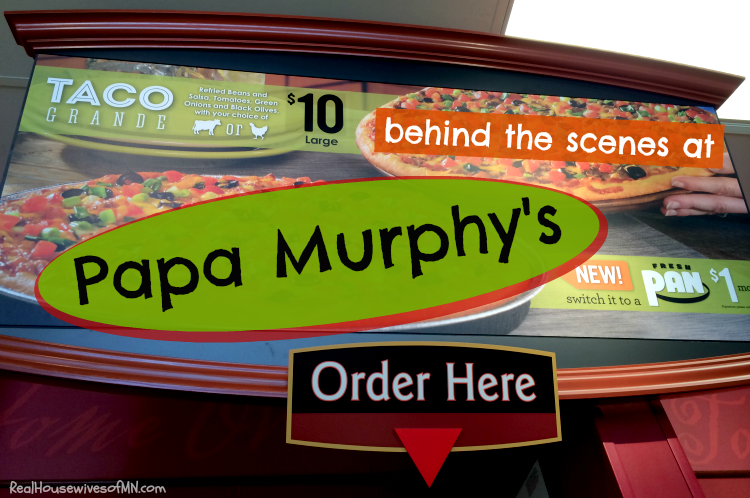 I recently had the opportunity to take a behind-the-scenes tour of Papa Murphy's in Blaine, MN and I really did learn a lot and it was a lot of fun too! I also get to share my experience with you and you can get a look behind the counter!
First thing when we got there that morning, they served up a delicious Cinnamon Wheel for breakfast, I had never had one of these from Papa Murphy's before, but it was super delicious and the kids in the group absolutely loved it too.

Once we had out tummies filled with deliciousness, it was time to continue on the tour.
Next up, was a look at how all their toppings are prepared, which is fresh and in-house. I had always heard that they had fresh toppings but doesn't everyone say that? So I figured they were about as fresh as the next guy, but they're actually so much more. Their fresh produce was delivered and right away it was washed and ready for prepping. They sliced and diced everything right there in front of us and I was amazed that it all was actually THAT fresh, I would have never guessed that was really even possible in this day and age.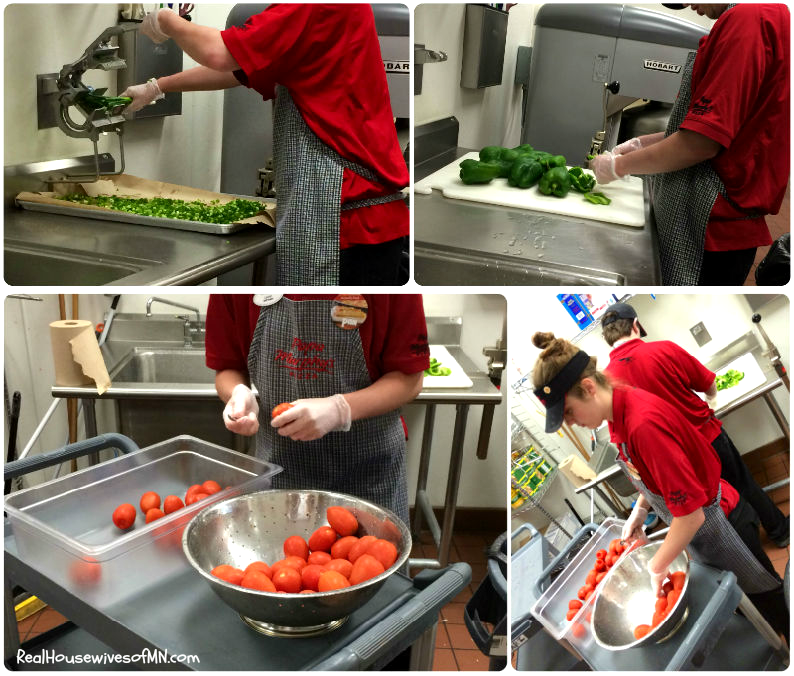 Fresh tomatoes are my absolute favorite, so seeing those there was enough to make my mouth water. They looked delicious. They were also cutting up fresh peppers and green onions as well in the photo above.
You know what else is fresh? Their pizza crust. They also make their crust in-house and let it rise for a day, and then it is made and served the next day! We got to watch the whole process that day and it was really neat to see.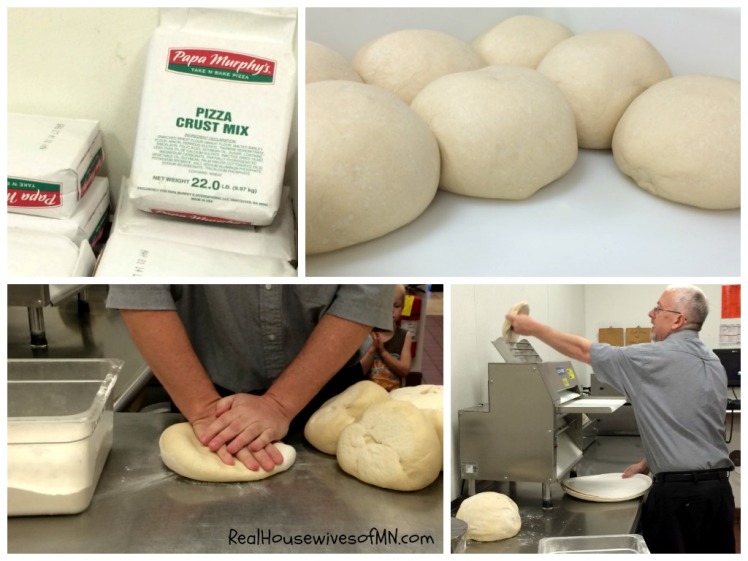 It is a really fun process to watch, and they are so good at it that it goes so fast. It's kind of like the old saying, the good ones make it look easy.
Once the crust was ready to roll, (no pun intended, really) we all got to create our own signature pizzas! It was a blast, and we all created some really delicious masterpieces 🙂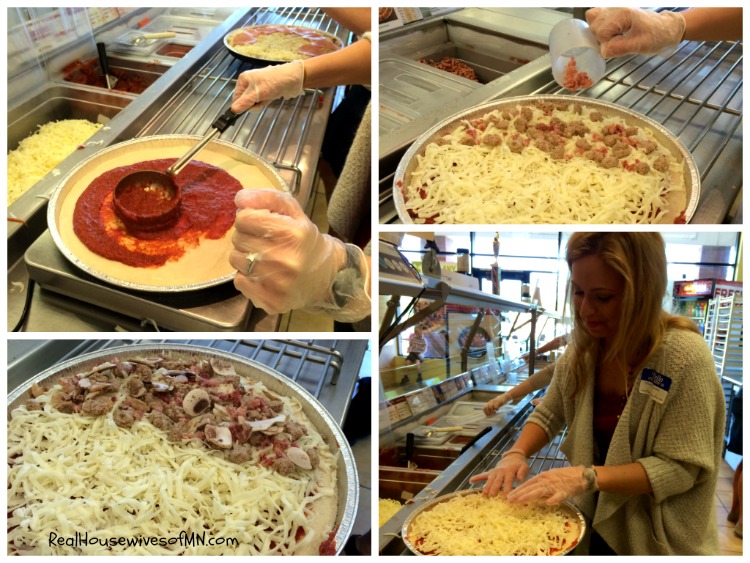 I am boring when it comes to pizza, so that half with just the cheese is mine. Don't judge. The other half is for my hubby who enjoys sausage, mushrooms, and one more ingredient that I think you will all love – bacon! It seems to be a fan favorite these days.
Are you ready to see my finished artwork?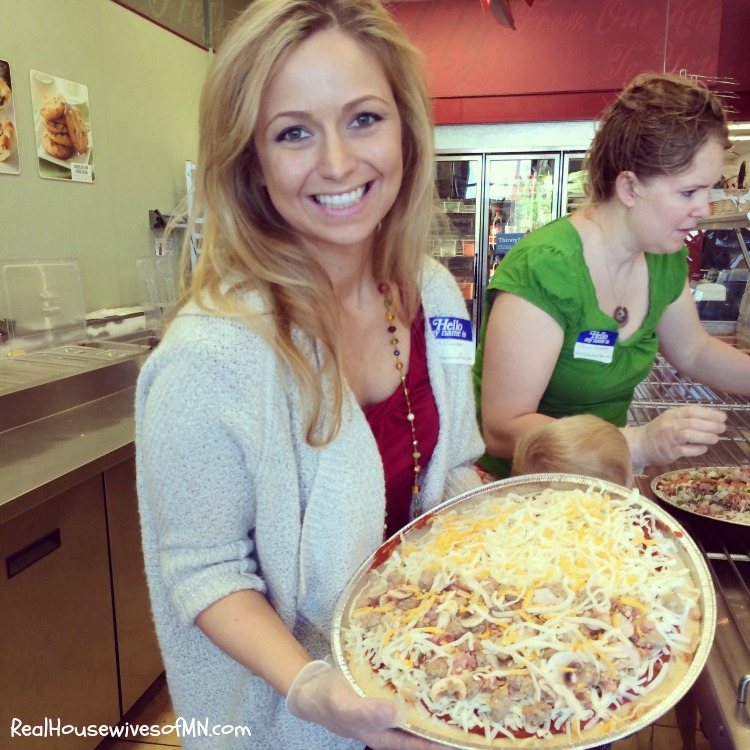 Fun Facts
Now here are some fun facts that I learned that day! And there was a lot to learn.
This summer, Papa Murphy's has $5 faves on Monday through Wednesdays – you can order a large pepperoni, cheese or sausage for only $5.00!
Papa Murphy's loves helping out their community. They offer fundraising programs to local community groups, such as selling Peel-a-Deal cards to family, friends and neighbors to 'raise some dough'.
Papa Murphy's offers five different combinations of pizzas and crusts:
Fresh Pan – thick, buttery crust that is crispy on the outside and soft on the inside.
Signature – their famous crusts on which their signature pizzas are made.
Delite – packed with flavor, thin on the crust. It has 25% less fat, and 35% fewer calories than their original crust.
Stuffed – loaded with two layers of fresh dough stuffed with fresh and yummy ingredients.
CYO (create your own) – make it your own and add your favorite items!
I also learned that you can call during the day to place your order and then pick your pizza up after work! How easy does that make meal planning for your family?
Coupons and Savings
You guys know that I'm all about using coupons and saving money, so I also wanted to share that you can visit papamurphys.com/couponsandeclub for special offers and savings!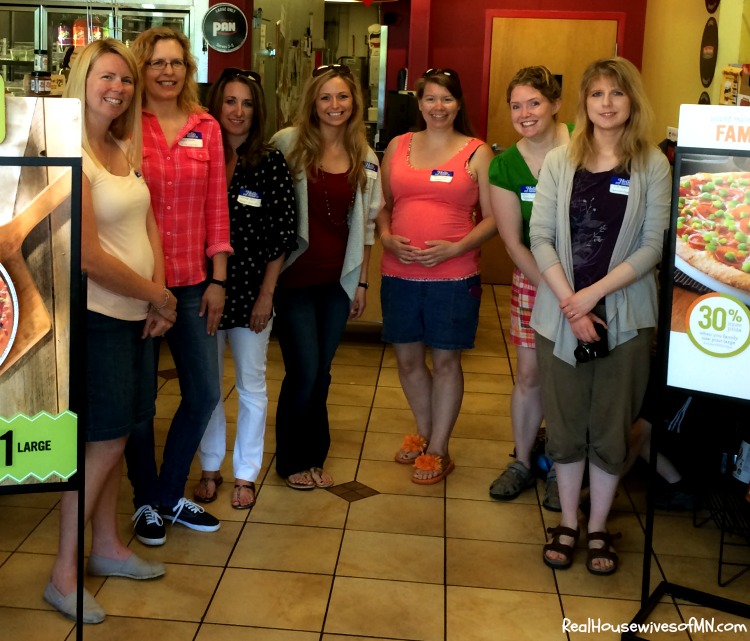 And there is one last photo to share of some more local bloggers and myself. Let's play 'Where's Waldo', can you find me? Haha! I just loved meeting these lovely ladies, they were a blast to sit and talk with.
The pizza was pretty divine that night too 🙂 We threw it on the grill and cooked it on low until the crust was crisp and the cheese was melted. Definitely a delicious summer twist on your pizza. Try it next time, I think you'll like it!!
Bon appetit!
Sarah

Don't miss a beat! Subscribe here for email updates and get a weekly roundup of my latest posts!