CRAVE West End Launches New Breakfast/Brunch: Review
Disclosure: I received a gift card to sample the breakfast mentioned in this post. All opinions are my own.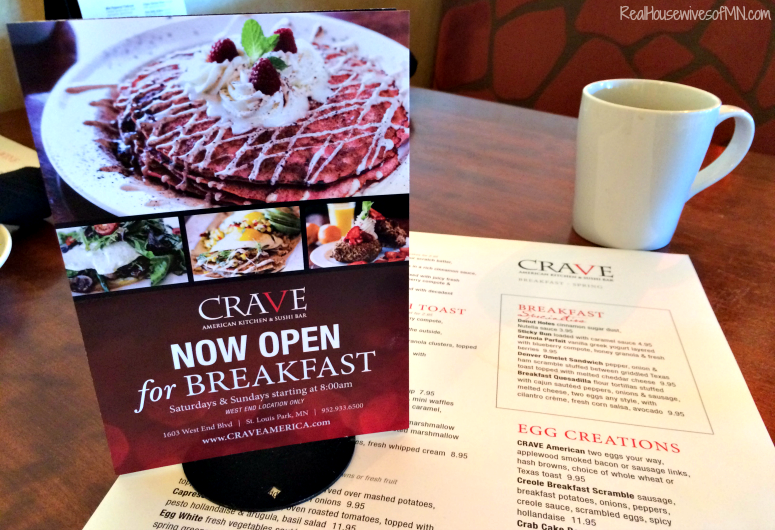 My husband and I are huge breakfast people. We love going out and having a nice bite to eat with some coffee and just get a good start to the morning together. This weekend, we got to try out the new breakfast menu at CRAVE West End (in St. Louis Park, Minnesota).
Kaskaid Hospitality (the parent company of CRAVE West End, UNION Rooftop and Salsa a la Salsa Uptown) recently launched a new breakfast and brunch program at select restaurants throughout the Twin Cities.
In case one sounds better to you than another (or one is just closer to you than another… that is usually our deciding factor) here are the offerings and details of the different restaurants: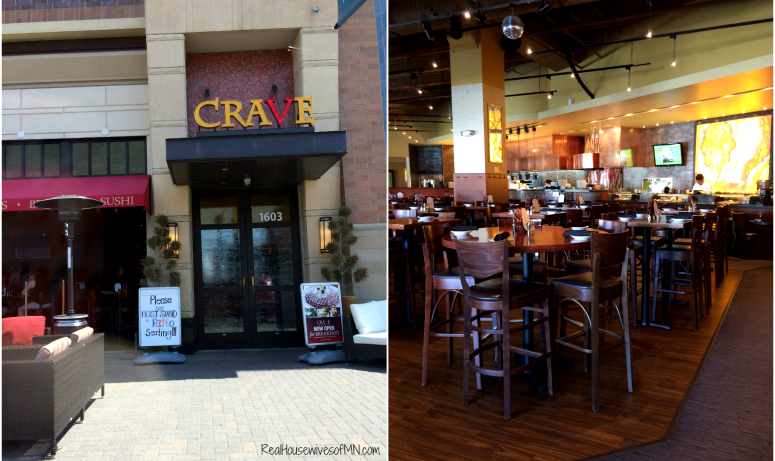 They have breakfast and brunch with dining available on Saturdays and Sundays from 8am to 2pm. Some of the delicious options on the menu include Red Velvet Pancakes, S'mores Waffles, Crab & Shrimp Cake Benedict (um, yum!!!), Braised Short Rib Hash, and some amazing gourmet donut holes which we just had to sample as a breakfast appetizer. They were Ahhhhh-mazing and came with a size of Nutella dip which brought me back to my trip to Italy last year. These were divine, I wish I could have them made for me every single morning!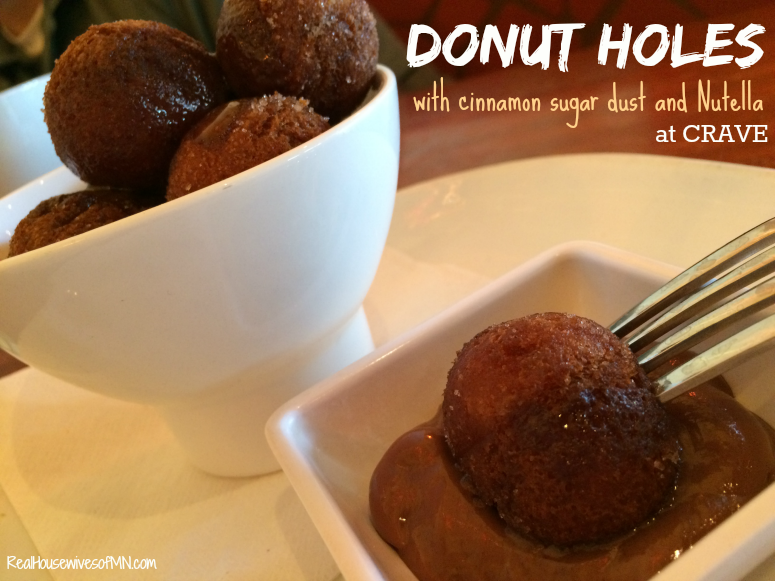 I could not make up my mind between the Strawberry Cheesecake Stuffed French Toast or the Eggs Benedict… Ultimately, I went with the Eggs Benedict which was a delicious choice, though I have a feeling they both would have been. I am a little fussy so I asked for the eggs scrambled and the hollandaise sauce on the side – I know, I know… high maintenance.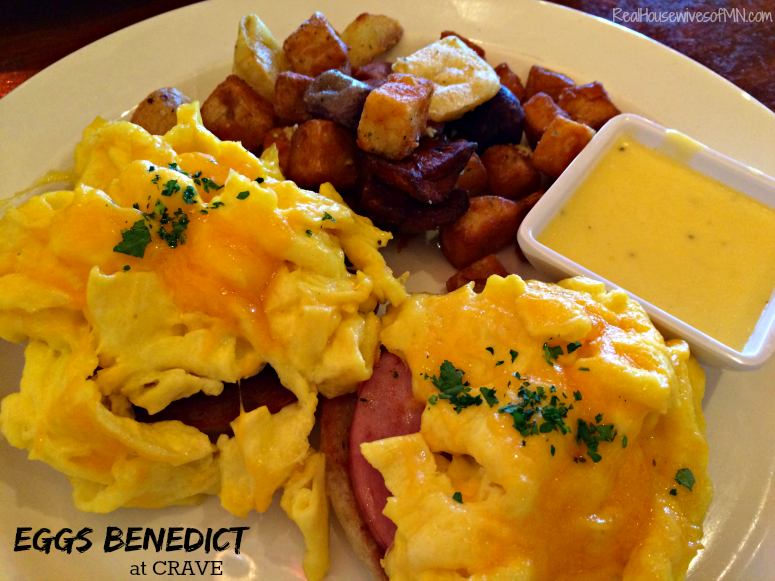 My husband went with his unadventurous usual, which involves eggs, sausage, toast and hashbrowns. On the menu, it was called the CRAVE American breakfast and he was everything short of licking the plate he enjoyed it that much. And I don't blame him, I may have snuck a bite or two – for review purposes of course.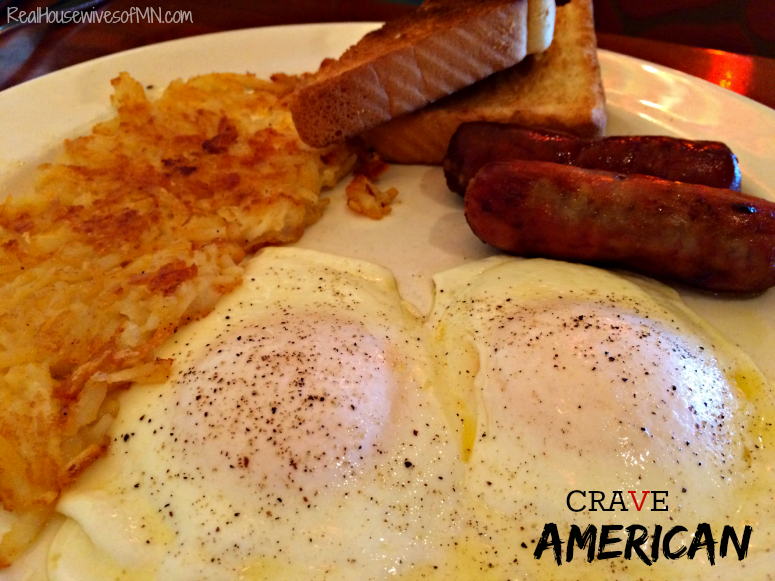 The food was beyond scrumptious, and the prices here were really reasonable too! I was impressed when our total came to around $30 for two entrees, coffee and the 'appetizer' of donut holes. With the food aside, we also had a great waitress who was super helpful in helping us decide what we'd like best on the menu and she also gave us the run-down of her favorites which included the breakfast quesadillas and the banana pancakes. So much to choose from! I don't know how we ever decided. If you're interested, you can see CRAVE's full breakfast menu here.
As we were leaving, I had to snag a picture of the outdoor patio. It was early (and a little chilly) when we were there so it wasn't too busy yet, but it is so nice to find a cozy patio like this for summer evenings or afternoons. You can find CRAVE on Twitter, just search for @CRAVEAmerica!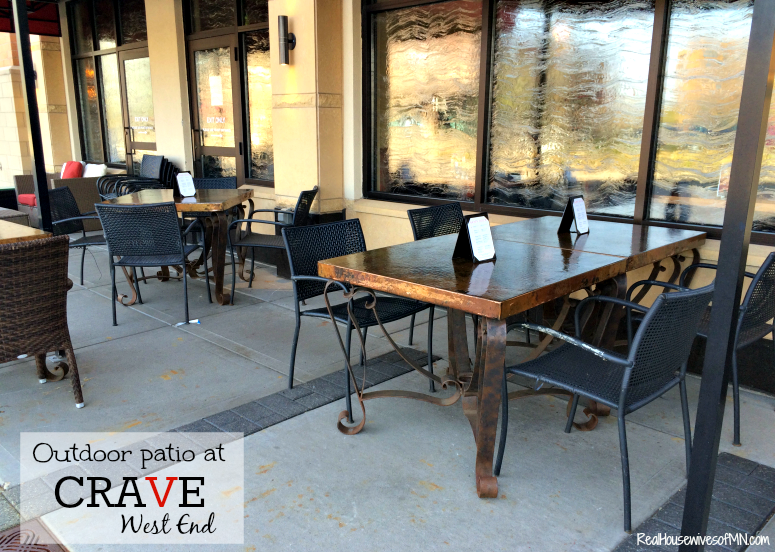 This second option for breakfast or brunch is located downtown Minneapolis and they serve breakfast on Sundays from 8am to 2pm. Their menu has delicious options like Portobello Benedict, Mascarpone Stuffed French Toast and of course their signature hash browns. Oh, and did I mention part of their breakfast also features bottomless mimosas? If I weren't 9 months pregnant, this probably would have swayed me to go downtown and try UNION instead of CRAVE but you know, details…
You can view UNION's breakfast menu if you want to see what else they have to offer. They have an extensive menu as well! Have questions or comments? Be sure to follow @UNIONMpls on Twitter.
Well the name kind of gives it away, but this third restaurant is located in, you guessed it, Uptown. They serve their new brunch menu on Saturdays and Sundays from 10am to 3pm. Highlights from their brunch menu include authentic Mexican dishes such as Chilaquiles, Southwestern Omelets, Huevos con Chorizo, and to wet your palette, a Bloody Maria (bet you can't guess what that might be!) Yes, you're right, it's a bloody mary.
You can view Salsa A La Salsa's brunch menu to get all the juicy details. I'll warn you, it's going to make you hungry! Find them on Twitter as well, @SalsaALaSalsa.
If you happen to go out and try one of these amazing breakfasts, be sure to tag me on Twitter too (@MNhousewives) and use the hashtag #KaskaidBreakfast to let me know what you think! I'm sure you're going to love it, we absolutely did.
Well that's all for now! Let me know if you've tried brunch at any of these restaurants yet! I'd love to hear your feedback as well!
Hearts,
Sarah