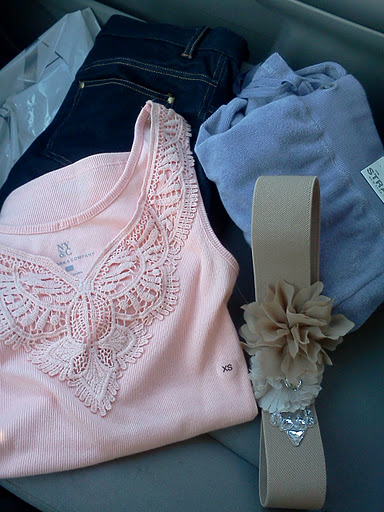 Well I'm sure that I'm not the only one sick of my old summer wardrobe. So I decided to go hit up Albertville outlet mall tonight, in hopes of finding a good deal or sale. And guess what! I did.
First off, I stopped in Calvin Klein. They have a big sign that said 'sale', which just happens to be my middle name. They had a lot of cute stuff, but nothing that really fit me right. I mean, I just started my diet yesterday… They did have a deal though that if you texted their given number with 'calvin5' you would receive 5 dollars off your purchase at the register. It was only good for today at this specific location, but keep your eyes open for that if you happen to stop in another day, for they may just be doing it again!
Next up was Puma, who was having a 'up to 75% off' sale. This would have worked out very well for the shoes, and it made the clothes very reasonable as well… so keep that in mind if you love Puma stuff. I'm an iffy fan. If I see something that's really really cute, then I'm a Puma fan. Otherwise I'm just a Puma spectator.
Where I really got lucky was at New York & Company. They have the cutest stuff for as low as 5 dollars! So of course I had to buy something there. I got the cutest pair of jeggings, an adorable peach tank, some light purple velour capris, and a cute jazzy waist belt. All for $30 – yay me!!! There was plenty more there to choose from; dresses, suits, dress pants, bags, shoes, you name it – they had it! The whole store was packed full of little orange sale tags – be still my heart!
Are you heading to the mall for summer clothes soon? Let me know where are the hot deals are!!!
Hearts,
Sarah