Paparazzi Jewelry & Hair Accessories: Review & Giveaway!

Congratulations Misty W! She won this giveaway!
Accessories always make an outfit go from blah to huzzah. So when I recently had the opportunity to work with a Minnesotan Paparazzi Jewelry consultant, Krystle Tuma, I was so excited to see what she had for me. And it was obviously great, because it made the cut to be on the site, right? So keep reading, this is about to get really good.
Impatient readers: If you want to read more before I continue, you can check out Krystle's fun Facebook page here to see what she's been up to: http://www.facebook.com/5dollardiva
The Concept Behind Paparazzi Jewelry
We all love to wear jewelry to add that extra glam to your outfit, but I think we can all agree that we don't like the price tag that usually comes with that jewelry! Even on sale, jewelry can be so expensive! So the main concept at Paparazzi is that everything costs $5. No, you didn't hear that wrong, everything really only costs you $5! Not only that, but their stuff is cute!! You can host a party at your house and invite your friends to come check out affordable fashion jewelry! Make some appetizers, put on some fun music and make it a night!
The Jewelry Line-up
So I suppose you're thinking, "If that stuff is only $5, I bet it's not that cute." Wrong. You're so wrong. Their stuff is adorable! Here are a few items that I picked from their site, just to give you a taste of what they have to offer…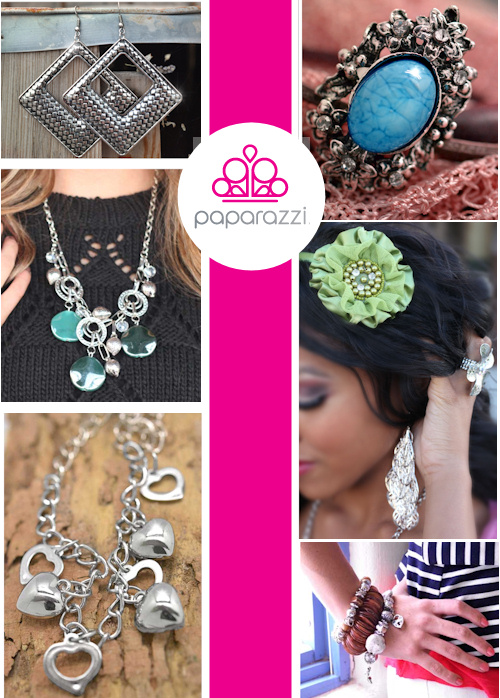 Now are you intrigued? I knew you would be. Each of the things that you see in that image above is only $5. I couldn't believe it either! Now, I got to try out a few items from Krystle and here are the items that I picked from their huge inventory: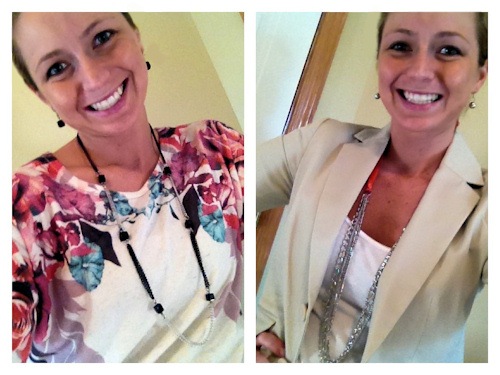 These necklaces both came with their own sets of earrings as well! So they matched each other, and they looked fab!! Plus, they had the cutest ring that I wanted to try out as well. It would be so cute for any fancy occasion or just as a casual piece as well: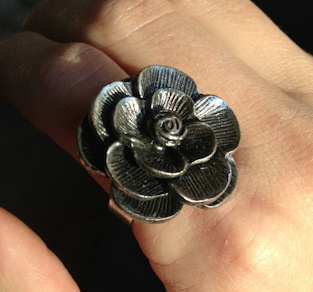 Testing Out the Goods!
I think their stuff is so cute, and it seems like the pieces would go with just about anything! Whether it's a special occasion, or a casual day at the mall. That's what I really liked about their accessories! I don't really wear hair things, so I didn't test out any of their hair accessories, but what they have on their site is really cute! I even put one into my collage above to show you guys how adorable they are!!
Another thing that I love about their stuff is the fun, bright colors that they offer! With summer being here, I want to wear vibrant colors and things that make me feel fun and free, and that's exactly what their selection makes me feel like! Just looking through their stuff, it was hard to just pick a few things out.
Become a Consultant
Krystle also mentioned to me that they are looking to bring on people who are interested in selling Paparazzi Accessories! Here are some fun facts about being a Paparazzi consultant:
You earn free accessories!
It's NEW, and growing fast.
Buy your inventory up front.
People love the products, they practically sell themselves!
Most consultants start out earning $50-100 an hour.
You receive 45% commission or profit on all your  jewelry sold!
No long-term commitment.
Interested in learning more? You can email Krystle at 5dollardiva@gmail.com for more information!
You can also visit her website here: http://www.paparazziaccessories.com/3910
It's Time For a Giveaway!
Now, Krystle wanted to give you guys a chance to try her jewelry out by running a giveaway! One of you will be able to snag three (3) FREE items from Krystle at Paparazzi Accessories! Your choice!! Use the Rafflecopter form below to enter. Contest ends midnight of May 30th, 2013.
Rules:
This contest is only open to US residents, ages 18 and up. Contest winner has three days to respond to the winning email, after that time a new winner will be chosen. Retail value of this contest is $15.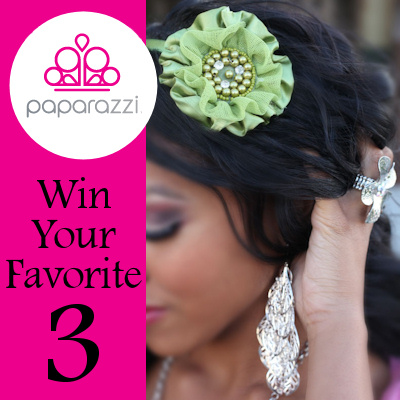 Disclosure: I was provided sample products in order to do this review. I was not paid to write this post, and all opinions are 100% my own.

Don't miss a beat! Subscribe here for email updates and get a weekly roundup of my latest posts!