Free Caribou Coffee & Einstein Bros Bagels For A Year! Richfield Grand Opening…
Disclosure: I received a promotional item from Caribou in exchange for this post. 

Is there anything better than gourmet coffee and delicious bagels in the morning? Let me save you some time and answer for you; nope! There is nothing better. How would you like to enjoy that every morning for a year? A year!! Um, yes please. Well you could score that morning perfection tomorrow at the GRAND OPENING of the Caribou Coffee and Einstein Bros Bagels in Richfield, MN!
"We love being a part of the Richfield community and we're looking forward to seeing our neighbors on grand opening day and beyond." Said Mike Tattersfield, CEO of Caribou Coffee and ENRGI.
This brand new combined store in Richfield will open at 6545 Lyndale Avenue S. tomorrow, Tuesday, October 13 at 5:00AM. As an added bonus, the first 50 people in line will receive a coupon booklet for free coffee and bagels for a year! 
It makes me wish there were 50 of me… I'd be set for coffee and bagels for life! Well you can grab your coupon booklet tomorrow morning, you'll be thanking yourself for the next 365 days – am I right?!
What:

 Caribou Coffee & Einstein Bros Bagels Grand Opening!

When:

 Tomorrow (October 13th) at 5:00AM

Where:

 6545 Lyndale Avenue S., Richfield, MN 55423


It's making me hungry and thirsty just thinking about it. YUM!! Will you be there? I hope so! And be sure to get there early and snag one of those amazing coupon booklets!
For more information, you can visit coffeeandbagels.com, or follow Caribou Coffee or Einstein Bros. Bagels on Facebook!
Don't Forget Your Coupons!!
Oh hey, how would you like some additional coupons? Like maybe a BOGO medium drink coupon? Or 20% off your entire purchase? Or maybe a free coffee when you purchase an egg sandwich? Well I might just have some of those for you. These are worth their weight in gold!! You can find (and print) those Richfield Coupons here!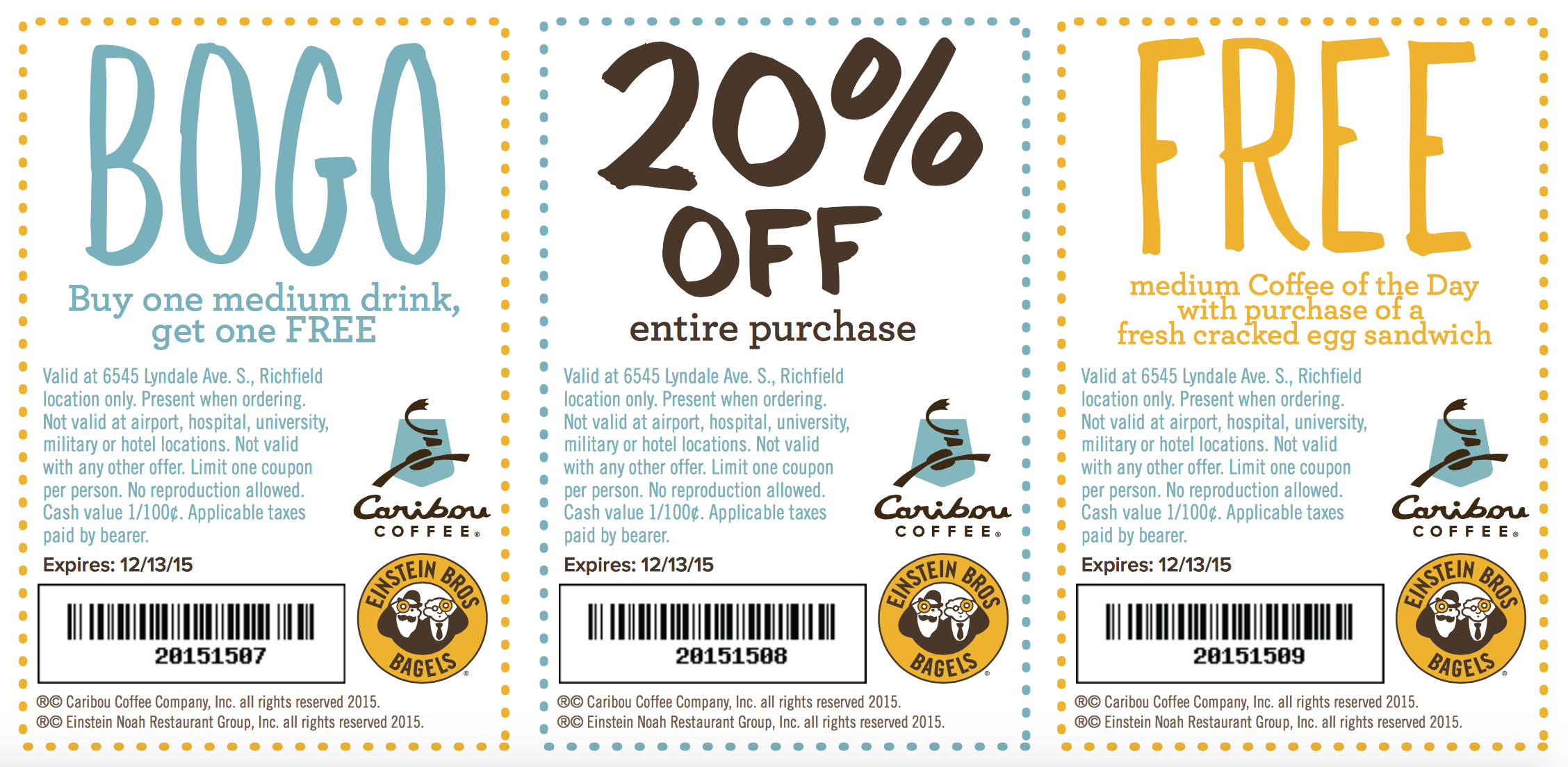 P.S. Store Hours – Once the store is officially open, the store hours will be 6am-9pm Monday through Saturday, and 6am-8pm on Sundays. You know, just in case you decide to stop by another day.
Until next time,
Sarah