Best Black Friday Deals (From Home!)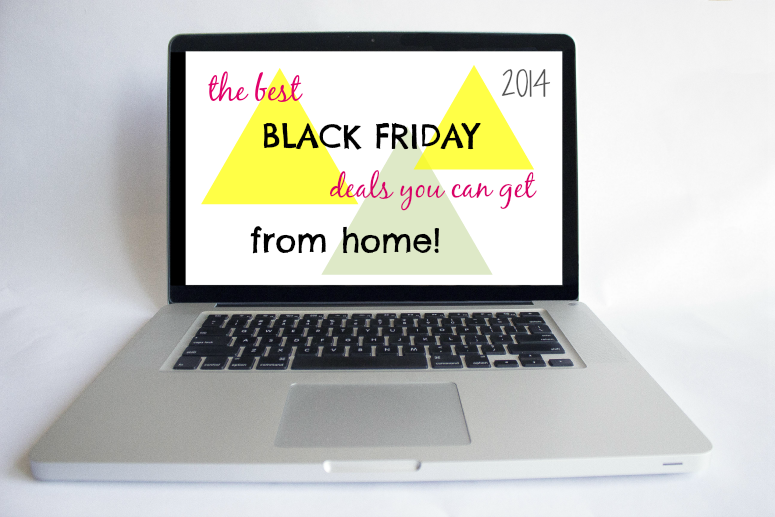 Alright, I will be the first to say that I love Black Friday shopping. But after a few stores this year, I quickly got tired of the driving, the parking, the long lines, the crabby people, and the disappointing empty shelves by the time you get there… It kind of kills the enjoyment of getting great deals, am I right?
So this year, I came home to finish my shopping online. Yes, that's right, from my comfy cozy couch. And in case you are looking to do the same this year, I put together a few of my favorite Black Friday deals that you can get from home.
1. Herberger's
Right now, Herberger's has free shipping on any order (no minimum) when you use the promo code "FREESHIP" at checkout. That being said, there is really no reason to physically go into a Herberger's… So what kinds of things do they have on sale? Plenty! Here's a short list of their best buys:
Reversible Down-Alternative Comforters (Any Size) $19.97
Farberware and T-Fal 14 piece nonstick cookware $39.97 (after rebate)
Cuisinart 7 cup food processor (reg. $195) $49.97
Crock-pot 4 qt slow cooker (reg. $30) $9.97
The Black Series automatic wine bottle opener (reg. $30) $9.97
Shark Ergolite steam mop (reg. $90) $39.97
Mattel and Fischer-Price Toys (50% off)
See the rest of their doorbuster deals here!
2. Old Navy
Old Navy always has awesome deals on Black Friday, in fact it's one of the stores that I always make a point of going to. But, I didn't make it there this year. However, I did manage to make it to their website. It was tough, but I made it happen. Here's the deal with them, they have free shipping on orders over $50, plus an additional 15% off your entire purchase with promo code "GRAVY". Not to mention, they have 50% off the entire store right now, soooo… it's kind of a good deal. Here's my top picks at Old Navy:
Men's and women's graphic tees $6.00 and regular tees $5.00
Men's and women's flannel PJ pants $8.00
Men's and women's fleece zip-ups $8.00
Women's cardigans $10.00
Men's and women's jeans $15.00
Men's and Women's Sweaters $10.00
Cold weather accessories $4.00
Baby bodysuits $4.00
Baby outerwear $10.00
See more doorbusters from Old Navy!
3. Target
Target was one of the few stores I did make it to this year, but apparently I didn't have to because they also have free shipping on all orders! Which makes it way too easy to shop online and not step a foot in stores. Here's a few of the hot deals going on at Target:
Beats by Dre headphones (reg. $169) $97.00
Nikon Coolpix L330 digital camera (reg $229) $99.00
Shark Rotator Slim-Light Lift-away vacuum (reg $219) $149.99
RCA Dual Screen 9″ Mobile DVD Player (reg. $119) $69.99

GoPro HERO3+ Silver Edition (reg. 299.99) $199 (after $50 gift card)

See the rest of their doorbusters here!
4. Kohl's
I never step foot in a Kohl's on Black Friday, ever since I worked there in high school, it's not worth the chaos and the store-wrapping lines – no thank you! So if you really must get their deals, I would suggest either going tonight around 9:00pm, or shopping their website. Through today they have free shipping on orders over $50. And it's not hard to spend that there. Plus, for every $50 you spend, you get $15 in Kohl's cash.
iLive bluetooth speaker (reg. $29) $14.99
Jawbone bluetooth mini jambox (reg. $179) $99.99
Little Tykes easy score basketball hoop (reg. $49) $24.99
Barbie fashionistas dolls $6.99
Toastmaster 20 oz blender (reg. 29.99) $4.99 (after rebate)
All floor care is 20-50% off
Sheet sets 50-80% off
Shop more Kohl's deals here…
———-
What is on your shopping list this year?
Hearts,
Sarah

Don't miss a beat! Subscribe here for email updates and get a weekly roundup of my latest posts!