Drab to Fab! Dresser Refinish!
I'm going to start by saying, Don't you hate it when you write something on an electronic device and then somehow it ends up getting deleted before you are able to send it to its destination??? Well, that just happened with this post 🙁 Argh! But, because I'm so excited about this dresser refinish, I am going to write the whole.post.over.again. Here goes!
Everyone knows what Craigslist is, right? Well, I'm not sure how many people have discovered the "FREE" section on Craigslist. In my humble opinion, it is absolutely the BEST section! There are so many treasures awaiting, free for the taking! Free!!! Granted it takes some sifting through the junk, but there are some real diamonds in the rough! It is perfect for those with a creative eye that can see the potential where others cannot. Thanks to Pinterest (you all know how much I love Pinterest!), I am able to see the potential in some items that I wouldn't have looked twice at before!
I've been browsing Craigslist lately for furniture for the new baby's room (Yes! We have another little bundle of joy on the way!). I decided on white furniture this time around (to go against the gray walls). Baby furniture is perfect for buying second hand for a couple reasons. 1) It usually isn't used for very long so you can find items in like-new condition. 2) Baby furniture in stores is absurdly overpriced. I mean, over $1,000 for a crib that you are going to use for maybe 2 years? Really??? Not this frugal mama! I bought all the furniture second hand in the first baby's room, and plan to do the same for this one. Free would be even better 😉
Anyways, back to my exciting dresser re-do! I hadn't had much luck finding white furniture in the FREE section of Craigslist. But then, there it was, in all of its (potential) glory! A large, 8 drawer, waist height, real wood dresser! For FREE! I was so excited! It was just what I had been looking for! It just needed a little elbow grease! I am still kicking myself for not saving the initial picture of it, but I took some pictures while it was in the works. I think you'll get the idea of what it looked like.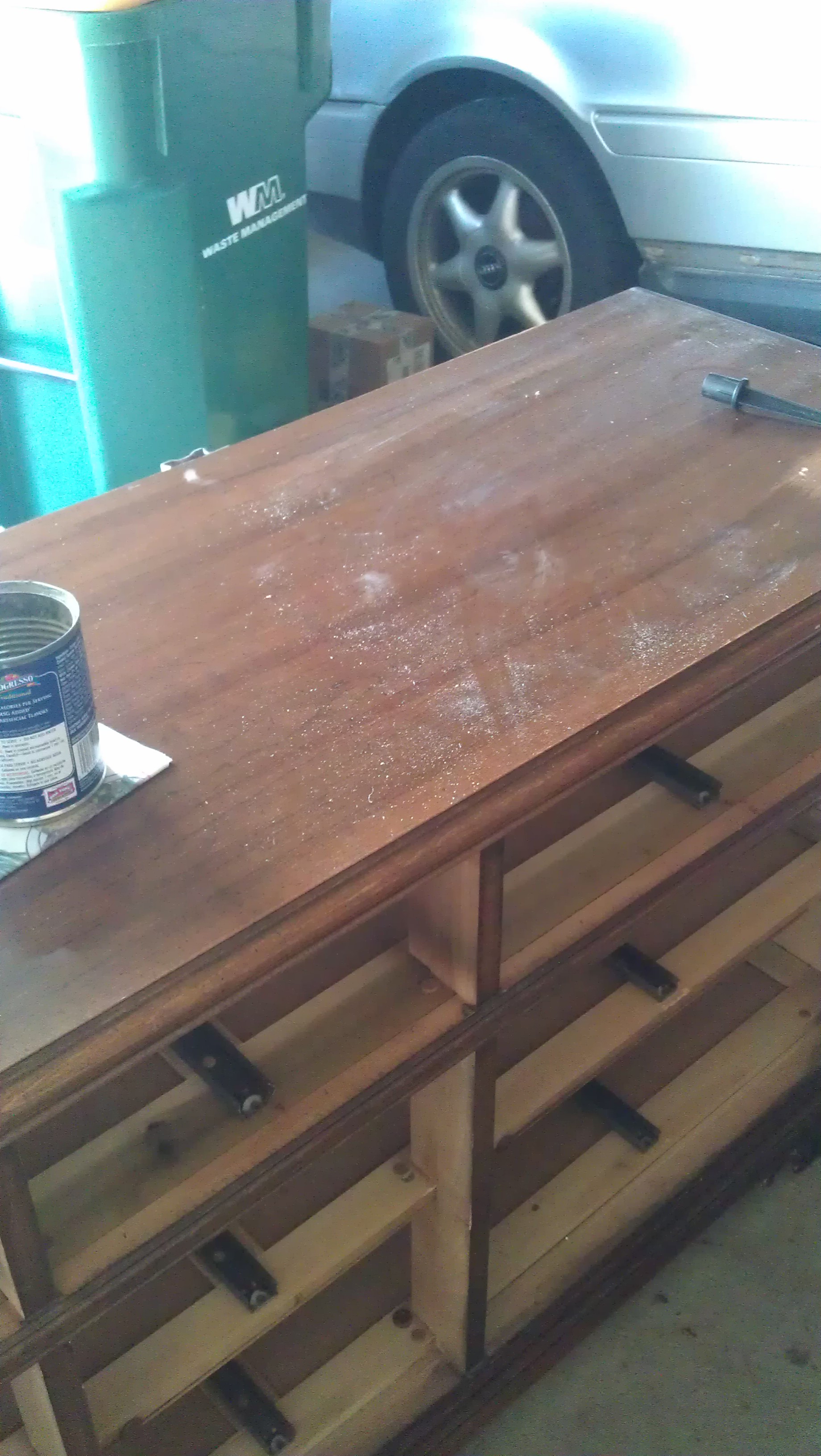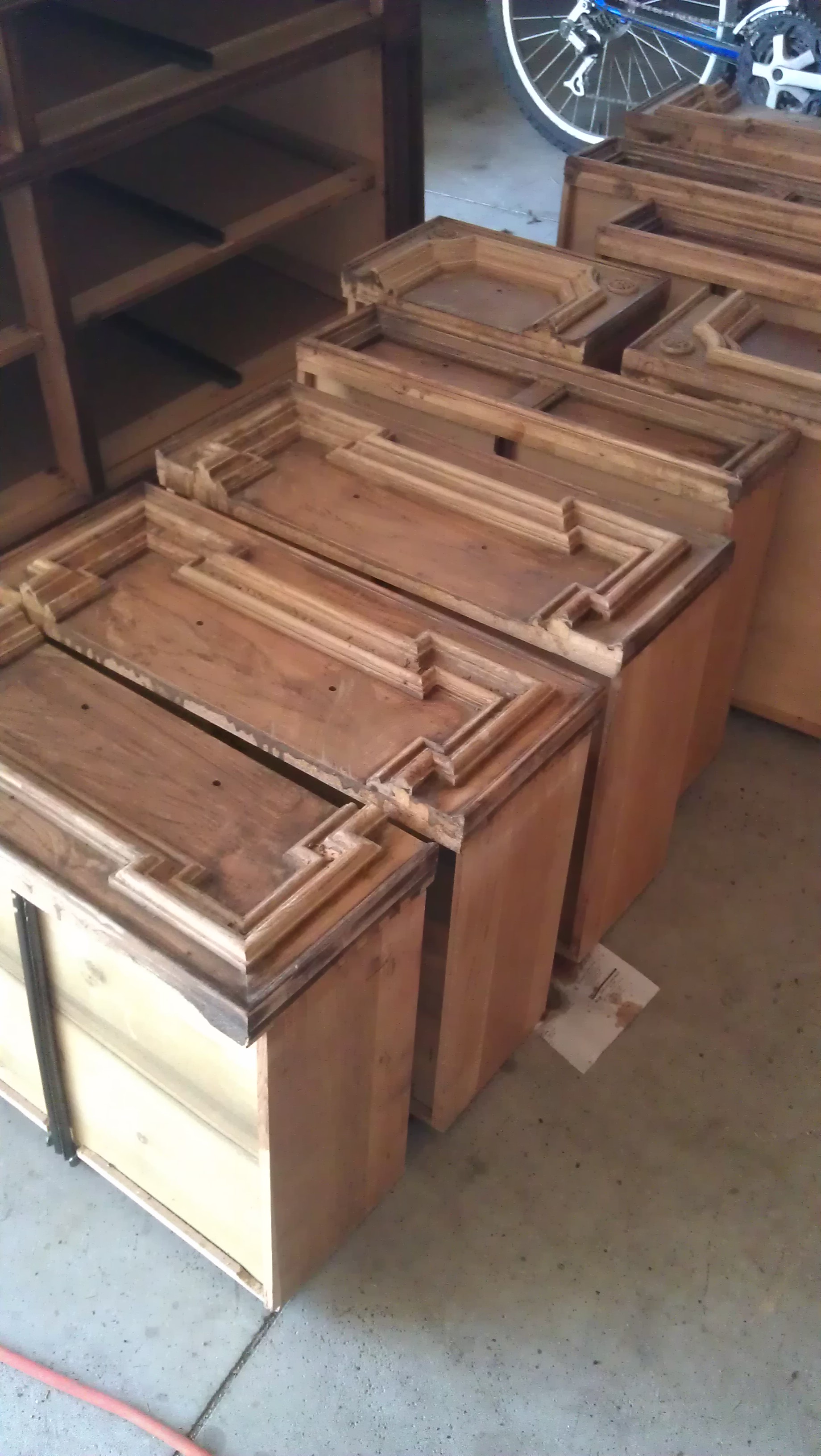 The hardware was a brushed brass color. It was a nice looking dresser. It has a couple nicks and dings, but overall, it was in great condition! It was about to get even better!!!
Here's what we did:
1. Remove all hardware from the drawers.

2. Sand the shine of the initial stain off the drawers and main area. Since the drawers on this one had a lot of detailing, it was impossible to get in all the areas with sand paper. We bought liquid sander to do the job. (My husband had to do this part since the fumes are too strong for this pregnant mama).
3. Use a towel to wipe off all dust.
4. Paint with primer. We used a white latex primer. Since the dresser was going to be pained white, we wanted to be sure to give it plenty of primer to cover up the brown. So we applied two coats, letting it dry in between.
5. Once the primer was completely dry (we let it dry for 2 days), we applied two coats of white paint (again, allowing to dry in between coats).
6. Not liking the initial color of the hardware, I decided to spray paint all of the handles and metal pieces black. I applied two coats to these as well.
*Note: I did everything outside to be sure there was enough ventilation to do the project safely while pregnant.
I was so excited to get everything put back together and see the final product! My husband was too! When I had him pick up the dresser, he couldn't see the potential. He begrudgingly picked it up for me anyway. He slowly began to see what I was imagining as we were getting closer to it being finished. The final product was even more beautiful that I had imagined! And DH was amazed at how great it looked!!!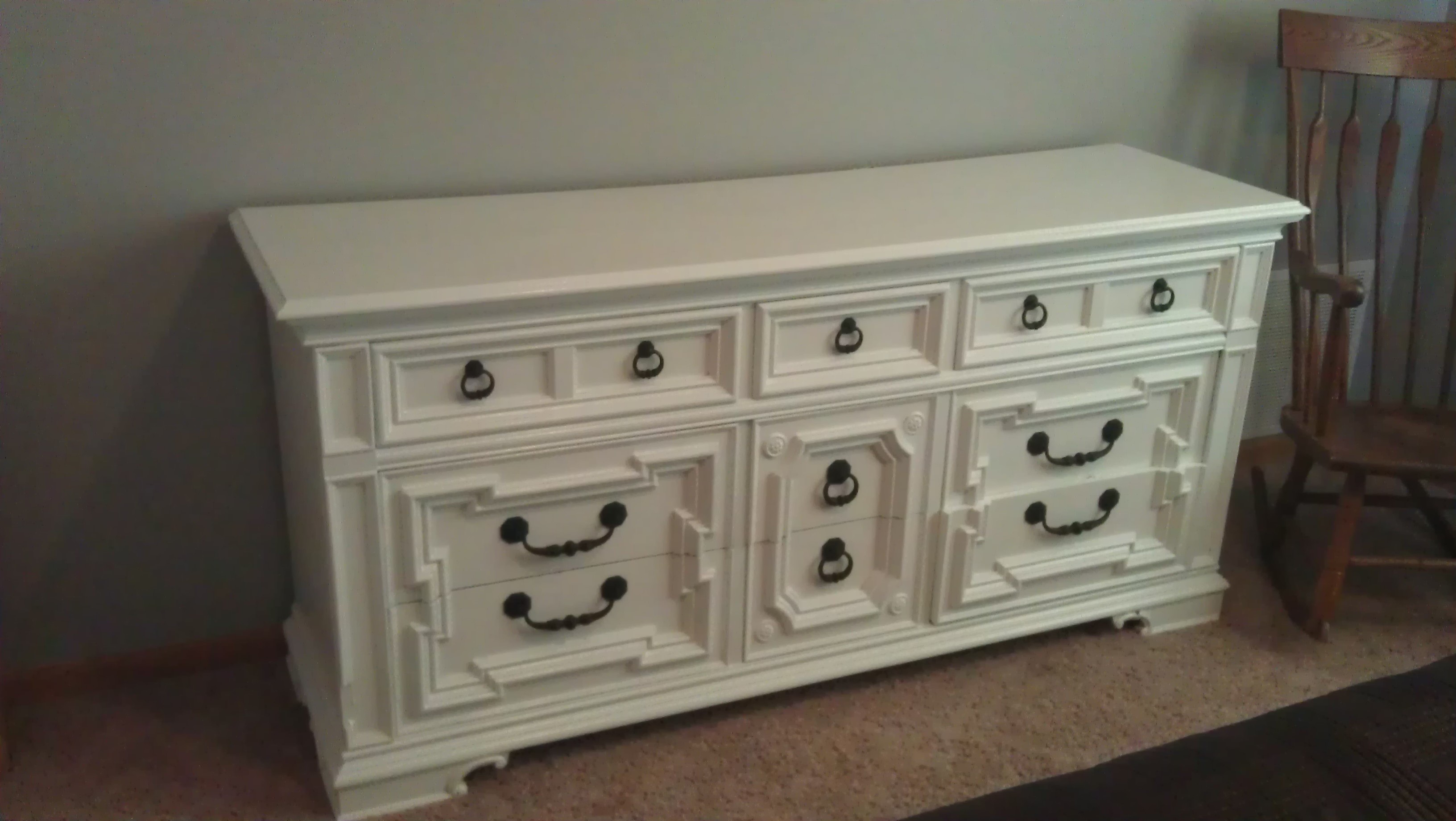 Doesn't it look great!?!?! I'm sure there will be more pictures to come as I gather second hand goodies for the new nursery!
Now, go browse the FREE section and let us know the great stuff you find!
Love, M
---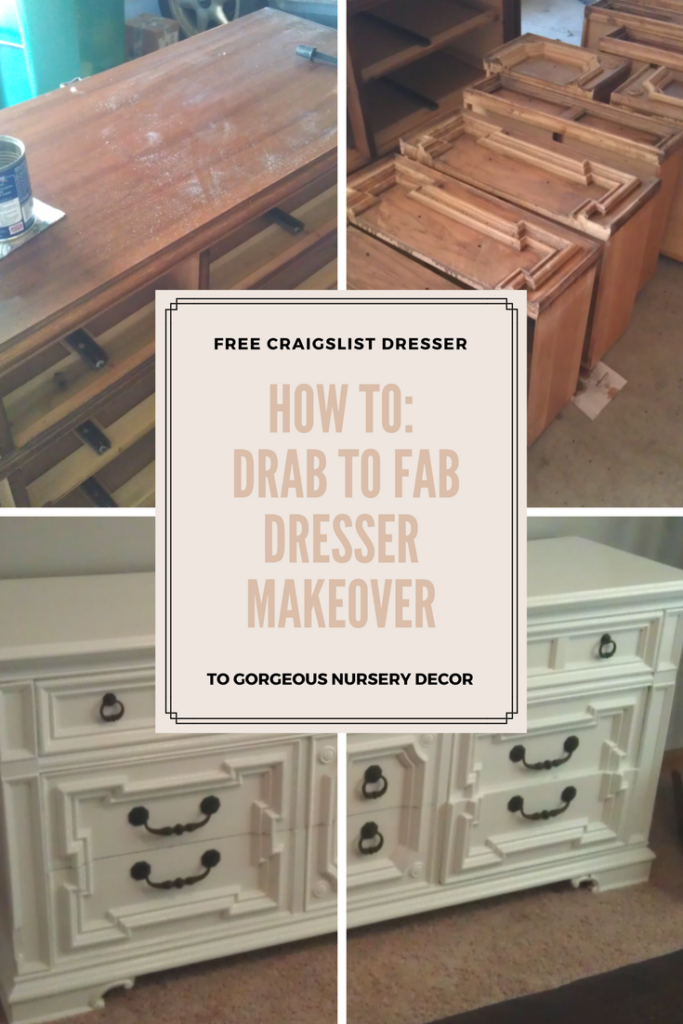 Don't miss a beat! Subscribe here for email updates and get a weekly roundup of my latest posts!