5 Super Bowl Activities for Kids
This post contains affiliate links.
Super Bowl Sunday is almost here and you may be having your friends and family over to watch the big game. However, not all of your guests will be absolutely glued to the television, and I'm talking about the kids.
It's great to have activities for the kids to do during the game since it is far too cold to play outside. Having fun and unique activities for the kiddos will ensure all your Super Bowl party attendees have a great time. A lot of parents set up areas for board games or another television to play video games on. But, sometimes the kids need other things to keep them busy. Here are five fun, tried and true activities that will keep the kids occupied and having fun while the game is on.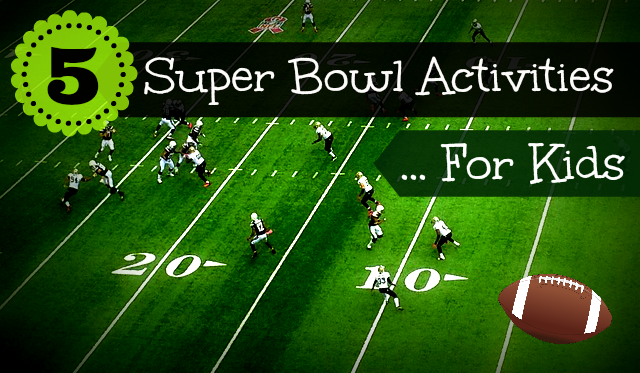 1. Get Crafty
Set up a table and cut out construction paper football helmets or football player shapes. If you have a paper punch that does shapes – punch out stars, circles, squares, triangles and other shapes – those are always fun too. Otherwise, just cut some shapes out to have ready for younger kids so there's no frustration or safety issues with trying to use scissors to cut out their own shapes. If you want to create the football player, cut out a jersey to fit over the body and let the kids decorate like their favorite player. Some kids like to make entire teams. Glue, markers, and crayons will be all you need to make sure this activity is a hit.
You can get football printables at Coloring Castle for free. Other fun activities can include letting the kids make their own pom-poms and letting them make wall decorations like signs for the game. Having a crafting table in a central place will keep the kids (and the mess) in one place.
2. Bingo is a Blast
Bingo is a game that's easy to learn and fun to play. Studio DIY put together a fun Bingo printable card and you can use M&M candies, beans, or punch out some small round paper circles to use to cover your cards. There are 10 different cards so everyone can have a different card to play. The rules are simple, just spot 5 in a row either across, up and down, or diagonally of player numbers or symbols on the bingo card during the game or commercials and yell, "Bingo!"
Get the free Super Bowl bingo cards
3. Play Super Bowl Smackdown
Let's face it, the Super Bowl can drag on for too long as far as the kids are concerned. That is, unless you make them part of the action. Super Bowl Smackdown is a fun game that will keep the kids watching and seeing if they guessed right. Before the game, a sheet with questions about which team they are rooting for, who will make the first touchdown, and other questions for the kids to make predictions about are asked.
Then, as the game plays out, they mark off the questions they predicted. At the end of game, see which child guessed the most correct outcomes to the questions. If you have a tie, the game recommends doing what the pros do, tossing a coin. Have some prizes available to give away to players such as candies in football-shaped favor bags, and get the excitement going by giving the first child to get a question correct a prize. 
Get free printables for the Super Bowl Smackdown questions.
4. DIY Snack Cups
Everyone loves to snack during the Super Bowl, letting the kids make their own snack holder is a fun craft that will be useful during the game. AboutaMom.com had one of the cutest ideas that you can do with the kids in a flash. It's just heavy brown construction paper cut into a football shape, and the bottom is closed with thin jute rope. Leaving the top open to hold snacks. This is a fun craft the kids can make then use all during the game. Have a snack table set up with popcorn, chips, and other treats to make use of their snack cups.
You can get the free instructions for making this craft here.
5. Face Painting
Setting up a face painting table is a fun way to let the kids wear their team colors. Snazaroo Face Paints are a good, non-toxic brand of face paint for kids. If you want to make your own face paints, it's easy. Use 2 tablespoons of pure cocoa butter, 1 teaspoon of cornstarch and add a few drops of pure food coloring and stir, continue adding drops and stirring until you get the hue you want. The cornstarch is essential to stop the skin from being stained, don't leave it out. Apply with cotton swab or small brush.
Those are just 5 fun ideas to keep the kids entertained. Ultimately, not everyone comes over to watch the game, but everyone comes over to socialize. Make sure your smallest guests feel welcome and entertained; it's easy to pull off when you have fun activities ready for them.
---
For more fun Super Bowl ideas, check out some of my other posts: 
---
Author Bio:
Christine J. Williamson is the co-founder and writer for I'm Super Mommy. She is blessed with two amazing boys and a great husband, and 100% loves blogging at the I'm Super Mommy Blog. Connect with her on Twitter!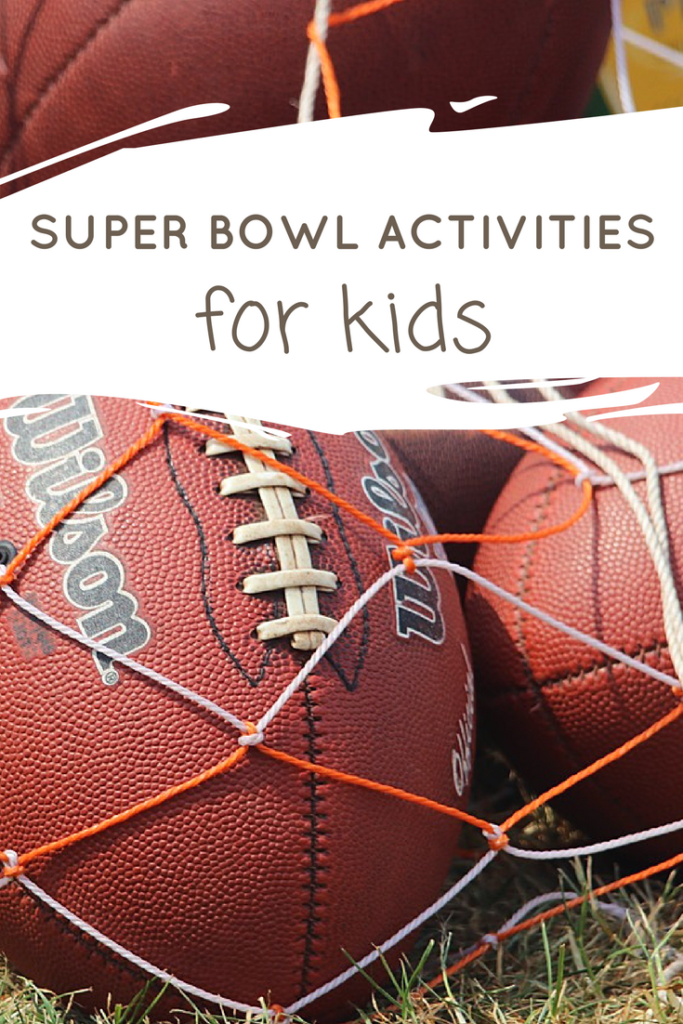 Don't miss a beat! Subscribe here for email updates and get a weekly roundup of my latest posts!