This, That and The Other – Minnesota Living
I had no idea what to call this post, so the title 'this, that and the other' came to me. I've been having a busy, crazy week so far so there's lots to pack into this post. Whew! So here goes.
Couponing has been a strong effort lately! After watching 'Extreme Couponing' episodes over and over, I've picked up on some good tips. Maybe you already know them, but for me it was brand new so I had a lot to pick up.
A) Shop on double-coupon days. Your couples will double and some items can even end up to be free!
B) Keep an eye on your local specials. The key is to pair local store discounts with the manufacturer coupons to get the best price.
C) Make a filing system of your coupon inserts. For me, this meant getting file folders and hanging folders to keep my coupons organized. Every Sunday, label a file folder with the date and put your inserts for that week in there. That way, if a store has a special that you can use an older coupon on, you'll be able to find it. You can find these specials when you use coupon blog sites like TheKrazyCouponLady.com or Fantabulously Frugal. Follow them on Twitter or Facebook to get instant updates.
As I keep learning more, I'll share. But if you have tips too, leave them in the comments. I definitely want to hear them!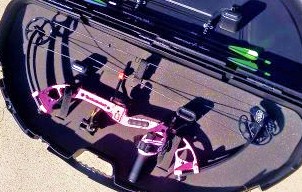 On top of other things, my husband surprised me with a pink bow and arrow for our anniversary. It is really cute! And I'm pretty good at it too 🙂 Minus breaking one arrow, I've hit the target almost every time. But don't give me too much credit, I've been standing relatively close – about 15 yards close. We're going to practice some more this weekend too, I'm excited to get better at it! It takes a lot of arm strength so that is my biggest hurdle right now. I've got to build up some arm strength before I get really good at it. Which is good, because my arms need shaping up anyways 🙂
In more fun news, we bought a new car. Did I mention that yet? I don't think I have. We bought a new Volkswagen 🙂 DH loves it, and it's pretty good on gas mileage too. It's been perfect for us, and we got a great deal on it! Win-win!
Alrighty, well this girl is plum-tuckered out. So happy tomorrow is Friday! I am also counting down the days until Black Friday, by the way. My favorite holiday of the year!!
Hearts,
Sarah

Don't miss a beat! Subscribe here for email updates and get a weekly roundup of my latest posts!