Spring Beauty Product Roundup
Oh spring, it's that time of year that just calls for you to clean out everything you've ever owned. Well, until the coffee wears off, then it's time to shove things into boxes and promise yourself you'll clean it out next year. Or is that just me? Well in either case, this weekend I was cleaning out my bathroom drawers and makeup organizers and tossing out all of the items that just didn't cut it for me. It was then that I realized there are a few beauty items that I consistently turn to on a daily basis to keep me looking alive. For that reason, they've made my Spring Beauty Product Roundup post today and I'm happy to share them with you!
Revlon Photoready Airbrush Foundation ($11.99) – I purchased this a while back in a coupon haul and it's lasted me such a long time. It gives great coverage (hence the name, airbrush) and it lasts! I'm always impressed with how natural it looks, it comes out as kind of a mousse and covers nice and even.
Besame Black Cake Mascara ($25.00) – This is a mascara like you've never seen before. Just add a little bit of water to the 'mascara cake', blend it to your favorite brush and swipe onto your eyelashes. You can also use it as eyeliner in the same way, or if you have dark brows, it'll pull triple duty for you. (Thank you Besame for the sample of this one, I love it!)
Urban Decay 24/7 Velvet Glide-On Eye Pencil ($20.00) – I received this pencil in a Glossybox and have loved it ever since. It goes on the waterline so smoothly and it's lightweight somehow at the same time. I love this pencil!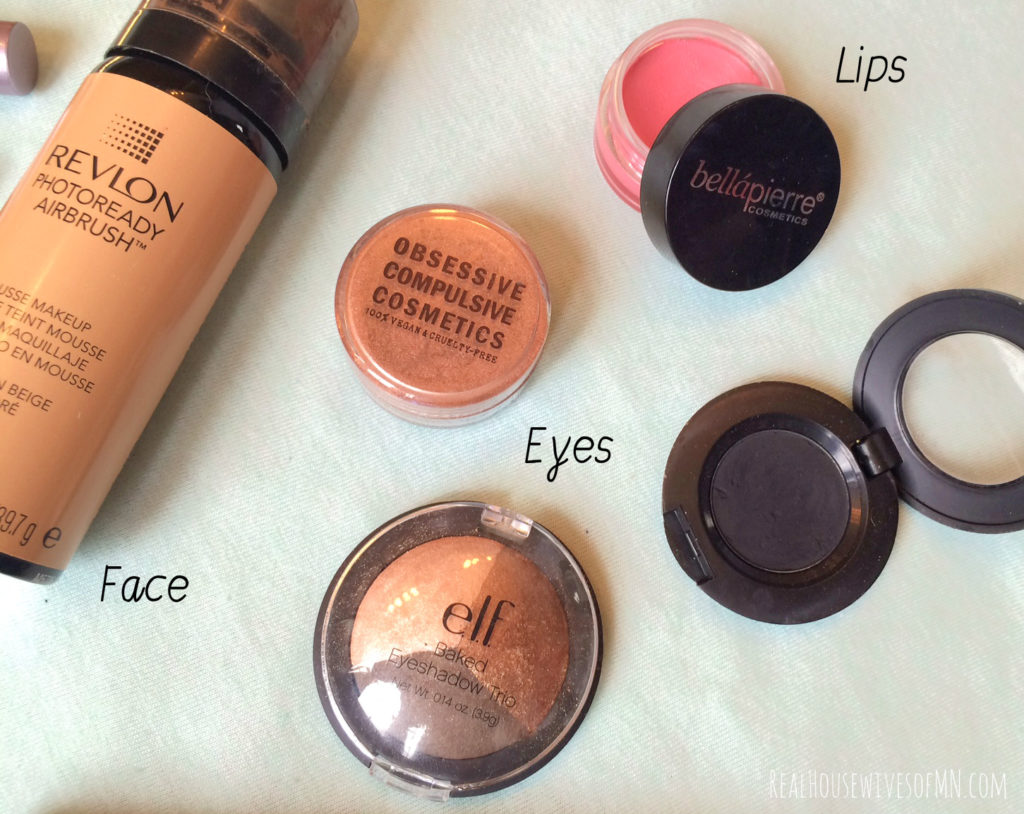 Stila Stay All Day Waterproof Liquid Eye Liner ($22.00) – I bought this liquid liner when I went into Sephora one day and asked for something that would actually last all day. I was tired of my eye liner smudging below and above my eye, and wanted something different. She suggested this liquid liner from Stila and I use it constantly. It's wonderful.
Obsessive Compulsive Cosmetics Mineral Eye Shadow ($15.00) – I'm obsessed with mineral eye shadows, they just go on so much smoother than pressed shadows. This color by OCC is called "GLISTEN- Golden coral shimmer" and it just matches my complexion really well. Home run!
Besame Classic Lipstick in Red Velvet ($22.00) – I love pink lips in the spring, but for nights out on the town or formal events, this Red Velvet color is my favorite. It just feels luxurious, rich and elegant, plus it looks so glam! This actually uses squalene, vitamin C and aloe as well for a smooth and even color. (Thank you Besame for this sample lip color!)
Taste Power Pigment in Flush ($17.00) – This was another sample I'd received in a Glossybox that I fell in love with. The color is like a springy pink but not over-the-top (because I just can't pull off over-the-top). As a thick lip pencil, it's long lasting too which is another thing that I love about it.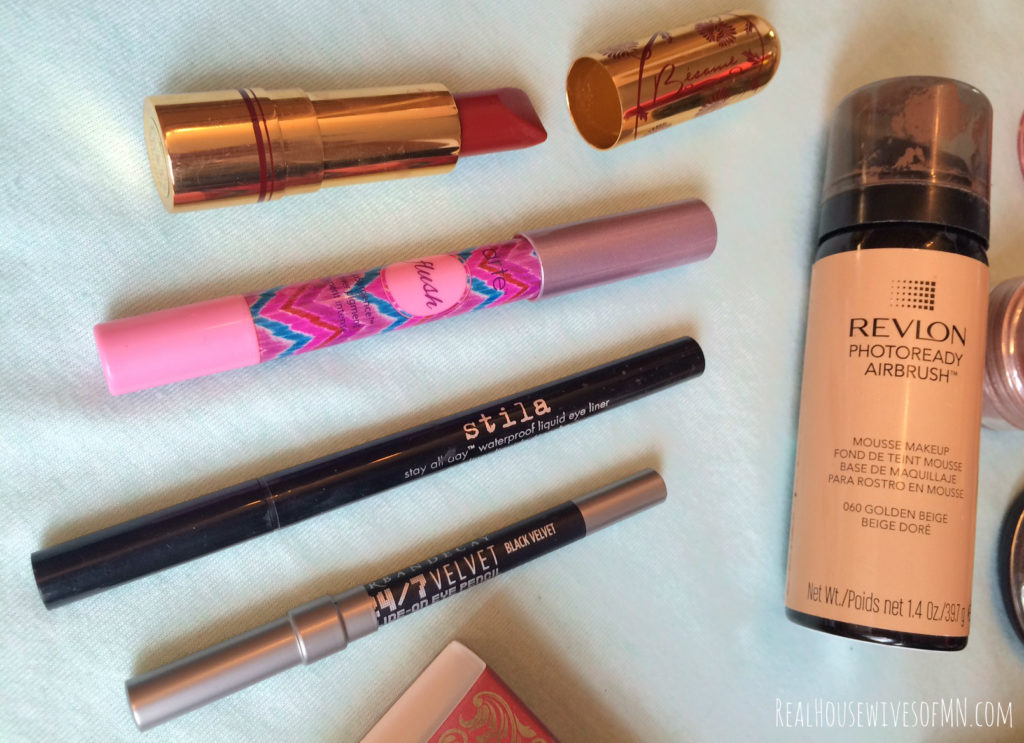 Elf Baked Eye Shadow Trio ($3.00) – Just because I love mineral shadows, doesn't mean that I don't enjoy a nice pressed shadow if it's worthy. My sister got me this trio palette for Christmas and I really love the metallic finish to it, plus the colors are really classic so they work with a lot of what I wear.
Bellepierre Cheek and Lip Stain ($14.72) – This UK brand is one of my favorites. I've never actually used this product as a cheek stain, because it works so well as a lip stain and I'm not sure how evenly spread I could get it on my cheeks to be honest. But I love the color and I love how long it lasts on my lips.
Maybelline Master Contour Kit ($9.99) – I did a post on how to contour your makeup with this palette a month or two ago and since doing that post, I've really come to love this little contour kit. I think it works extra well if you use a beauty blender sponge to create those hard, strong lines and then blend. I also like that I don't have to dig for my bronzer, blush and highlighter, they're all in one little set here.
---
Those are my top picks for this spring! I think you will love them if you get a chance to pick a couple of them up next time you're shopping for makeup. Let me know what you think of them!
Hearts,
Sarah