September Glossybox Recap: Monthly Beauty Box
Disclosure: I received the following item from Glossybox to write this review. Post contains affiliate links.

Ah yes, it's that time again where I get to show off what came in my GLOSSYBOX
this past month. I know, I do these posts kind of late, but I don't like spoiling the fun so I wait until everyone has got theirs. So without further adou, let's recap what came in September's wonderful Glossybox!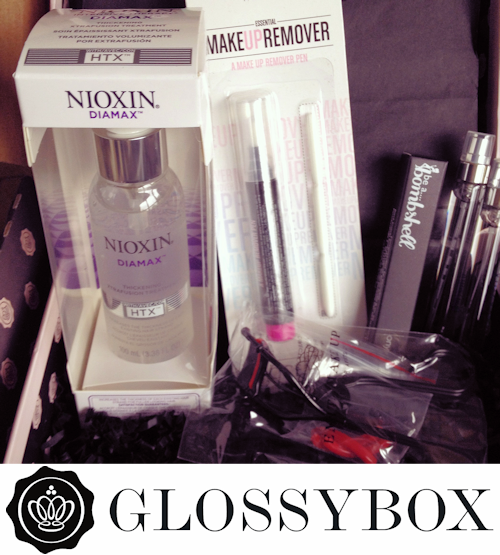 Sooo much good stuff this month, I even said to my husband that I think this was the best one yet! My favorite part about Glossybox is that they give you five deluxe-sized samples, which means you actually get a good feel for the product and whether or not it's a good fit for you! It's really hard to judge a product by just trying a teeny-tiny sample once or twice.
So let's go over this month's goodies!
1. Nioxin Diamax – This product is made to help create stronger, thicker hair by using a "fusion of Niacinamide, Panthenol and Caffeine". Massage a small amount into your damp hair, concentrating at your roots. I'd say use a small amount. A little goes a long way I think with this one! (Retail: $50.00)
2. Oceane Makeup Remover Pen – I had no idea there was such a thing as a makeup remover pen until probably a day before I got my Glossybox and read about it in a London publication! So I was excited to get this sample in my box! How many times have you sneezed right after you put on your mascara, or your eyeliner was perfect until that very last movement? This pen will be your new best friend. (Retail: $5.40)
3. Be a Bombshell Cosmetics Onyx Eyeliner Pen – I'm a big fan of the 'Be a Bombshell' beauty products, so I was excited for the eyeliner pen. It's super easy to apply and is an all-day formula, which is nice because I always tend to somehow rub off my eyeliner after the first hour. (Retail: $14.00)
4. BCBGMAXAZRIA Bon Genre Eau de Parfum Spray – Mmmm, I absolutely love perfume. I think I may have said that once or twice, but I really liked this one. Naturally it's from BCBG MAX AZRIA so I knew it'd be good. And it smells nice! Not overpowering, subtle yet bold. They say it's a good fit for 'urban rocker'. I like it! (Retail: $75.00)
5. Emite Makeup Professional Eyelash Curler – I can't remember the last time I got a new eyelash curler. That's a bad thing. Just think of the germs on that thing. So I was glad to try out a new one! This eyelash curler from Emite was very soft and gentle, and is designed to curl without touching your makeup base! (Retail: $31.07)
How do I get Glossybox?
It is super easy to sign up to get GLOSSYBOX
delivered to your mailbox every month! It's only $21 for a Monthly Subscription
, and that is with shipping included. You can also choose to go with a longer plan for a discount:
3 months for $60
6 months for $115
12 months for $220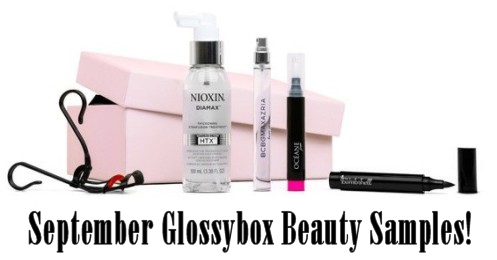 Just think of all the beauty products that are just waiting for you to try them 😉 As you can see above, the total value of this box is well worth the price of a subscription!
Have you tried any of these products, or do you currently get Glossybox? Leave a comment and share your feedback!
Hearts,
Sarah
Disclosure: I received a Glossybox in order to review for this post. All opinions expressed here are my own.