Ruby's New Favorite Thing – Neutrogena MicroMist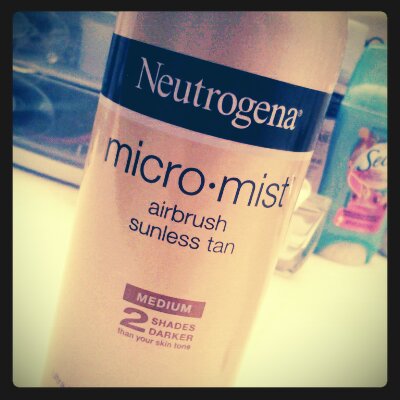 I've been on the hunt for a great self tanner lately. Before my wedding, I went to the tanning beds and got a nice tan. But I don't really care to chance skin cancer or leathery skin at old age so I wanted to find an alternative. I also can't afford to go get a spray tan every week, so that was out of the running.
In college, I had been introduced to Jergen's natural glow lotion. It worked really well, and I've recommended this to people before as well. But I was in search of something different this time. Something more instant and a little more drastic.
I was at Target, when I scoped out their self tanner section. Now keep in mind, I hadn't tried a real self-tanner since like 7th grade when I used the foam and it was completely blotchy, orange and I was uber-embarrassed. So much so, that i had never tried it again. Mortifying! Because that stuff does NOT come off. When I was browsing this section again, I had the fear in the back of my mind that I did not want to repeat that adolescent experience, so this time I browsed more carefully. What I found there was Neutrogena's MicroMist, among many other choices. But ultimately this is the one I chose.
I was nervous when I got home, but finally I got the guts up (2 days later) to give it a try. What I really liked about this application was that it was a spray. It is SO much easier to make sure your tan is even when it's in a spray. It's not like a pump spray either, it's a mist one where you hold it down and run it over your body. Plus, you don't have to deal with getting it on your hands! Although the can does advise you to wash your hands immediately after applying.
The tan takes 5 minutes to dry and that's it. Way too easy. But thats another thing I loved about it. It takes a couple hours to show but when I looked in the mirror later, I was so happy with it! It looked like I had been tanning but it was healthier, much easier and less time-consuming. I would definitely recommend this to anyone out there looking for a flawless self-tanner that is scared of the orange, blotchy, oompa-loompa-ness.
Well that's all for now! Until next time!
Hearts,
Sarah

Don't miss a beat! Subscribe here for email updates and get a weekly roundup of my latest posts!