Ridgedale's Mamapalooza Recap: Makeover Edition 2013
Well I had quite the end to last week. If you remember, I mentioned the Mamapalooza Makeover contest that Ridgedale Center was putting on. Well I received the name of the woman that I would be styling for Saturday and her name was Alexis! We met up on Friday to get shopping, or as I joked with her, it wasn't just shopping, it was shopping boot camp because I meant business!
Before we went from store to store looking for the perfect outfit for her, I showed her a few looks that would work beautifully for her body shape (she is a pear). Here is some similar images for images of pear-shaped fashion ideas: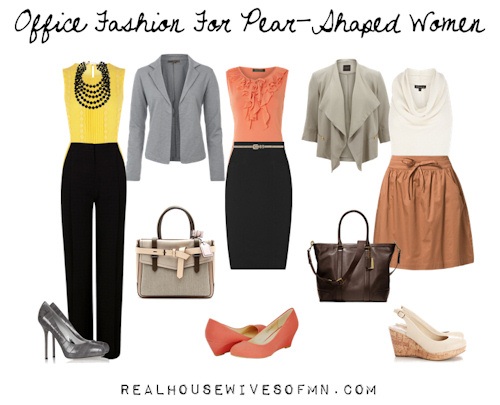 Then we decided to start at Coldwater Creek because that was her favorite store. They had some really cute clothes there that she liked, but they had more of a casual chic approach. Alexis is looking to impress at job interviews, so we wanted to give her a professional and modern look. We checked out New  York & Company because they've got a great collection of professional clothes for women. Next was The Limited who also had tons of options, plus lots of cute blazers to pair with any type of work outfit. Here are some fun shots I got of the selection at The Limited.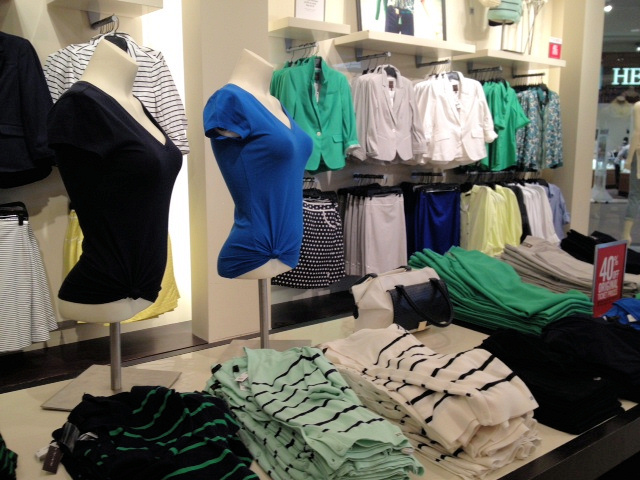 I absolutely loved their fun spring colors, but they were classy at the same time, if that makes sense. They didn't take bright florescents that would look tacky at the office. No, they had an awesome selection, and we even ended up finding her skirt and top here!
Here's another snapshot of some of the spring fashions they had at The Limited: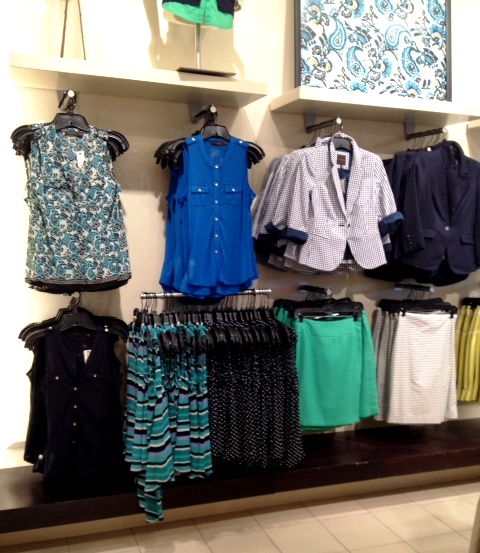 Moving forward, we had to find a navy cardigan to go with her ensemble. So we headed to Macy's where we lucked out! We found a Jones New York navy cardigan that looked so cute on her! Then we only had shoes and accessories left to scout for.
There are lots of fun stores at Ridgedale to shop for accessories at. It was the first time I had been into Francesca's and that was so neat in there! It has a small boutique feel but with lots of fun, fashionable accessories like shoes, bags, jewelry and lots more. We didn't find her accessories there, but I just had to mention the store because it's something different!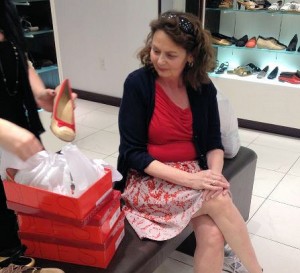 We did end up finding her accessories at Aldo (my go-to for bags and other cute accessories). There, we found her some cute gold hoop earrings, and a red and gold small shoulder bag. Her favorite color was red, so I know she will be using that tons!
For shoes, we managed to find some super cute picks at Aerosoles. I loooove their shoes because they are comfy, sensible but also fashionable and cute. We fell in love with a pair of beige and red pumps but they didn't have her size, so we ended up with red pumps that she loved, and they worked with the outfit!
That completed her look on my behalf, but then she went and seen Lauren at Aveda New Reflections right there at the mall. She gave her a cut and color to 'dye' for. See what I did there? 😉 Anyways, she looked amazing and the transformation was beautiful! Here is her before and after: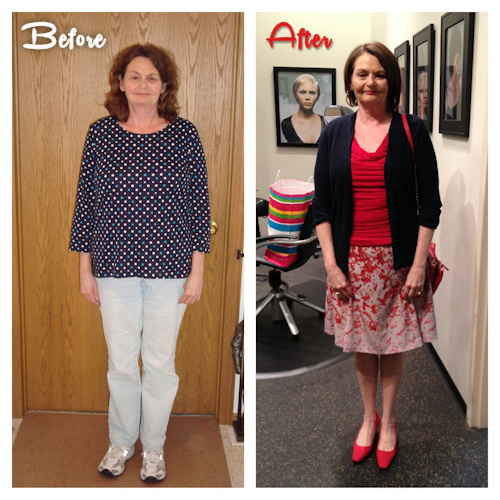 We presented the contest makeover winners on Saturday at the Mamapalooza event. It was so much fun! They had a whole lineup of activities and giveaways, food, wine sampling, mini-makeovers from Sephora, a spring fashion show, and all kinds of fun stuff! I took a few photos of all the adorable spring shoes that were in the fashion show: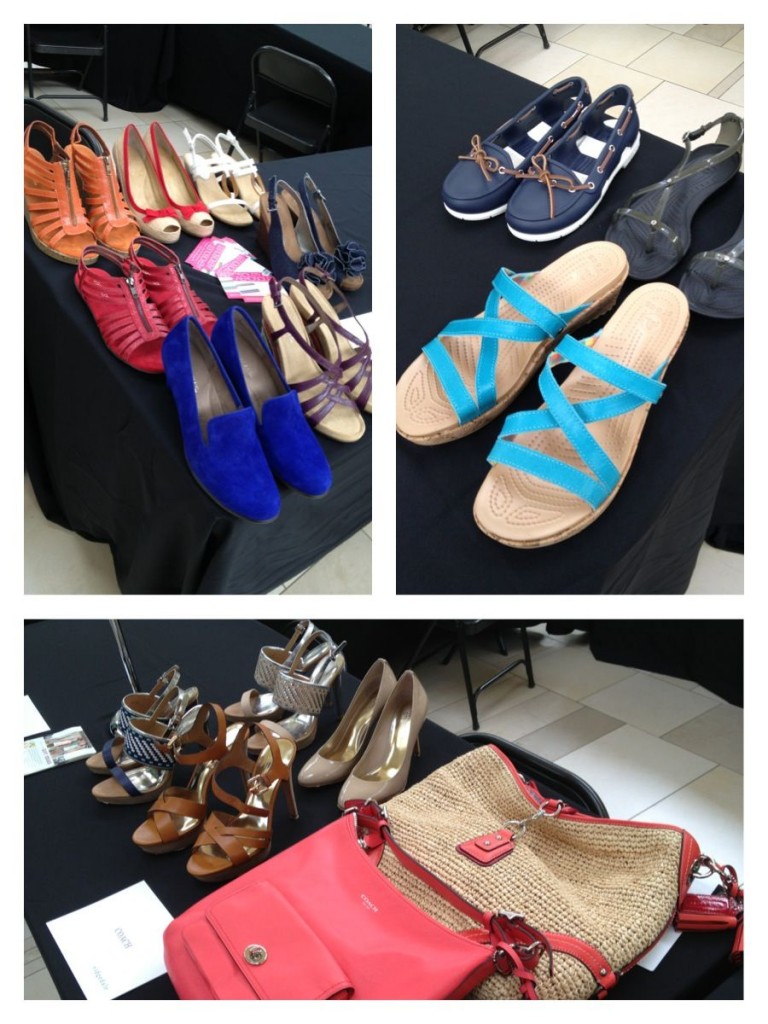 Finally, our big moment came!! Here is me on stage with Alexis, going over her outfit and where we found all her beautiful pieces! Doesn't she look gorgeous??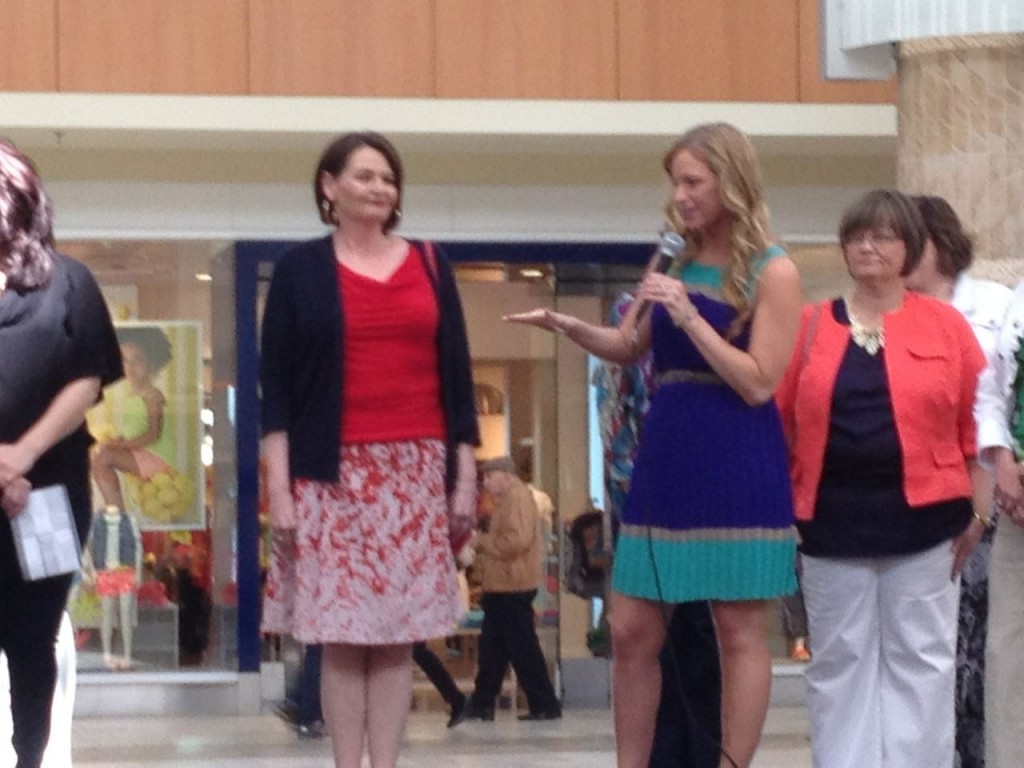 It was a wonderful time, and I had a blast!!
A special thank you to Ridgedale for putting on such a fun event! And thank you for letting me be a part of it 🙂
I'm already looking forward to next year, how about you guys?!
Hearts,
Sarah
Disclosure: This post was sponsored by Ridgedale Center. All opinions are 100% my own.

Don't miss a beat! Subscribe here for email updates and get a weekly roundup of my latest posts!