Olay 28 Day Skincare Challenge {+ My Results!}
This is a sponsored post in collaboration with Olay. All opinions are my own. #Olay28Day
About a month ago, you may have seen my post on Instagram that announced I was going to be starting my Olay 28 Day Challenge! Now that I've hit 30 *gasp* I have definitely noticed some visible lines on my face and I hate them. The ones I noticed first were on my forehead between my eyebrows, then next were my under-eye circles. And it's one of those things that once you notice them, they just seem worse every time you look at them, so I wanted to make a change. As soon as I started using the two following products from Olay, I noticed some awesome visible changes in these areas. My skin seemed tighter, healthier, and brighter! It was such a relief to finally see some POSITIVE changes in my skin!
An easy way to check your skin's age and see where your problem areas might lie is to use the Olay Skin Advisor. It gives your skin a personal skin diagnosis and gives you suggestions on which products to use to get the most customized results.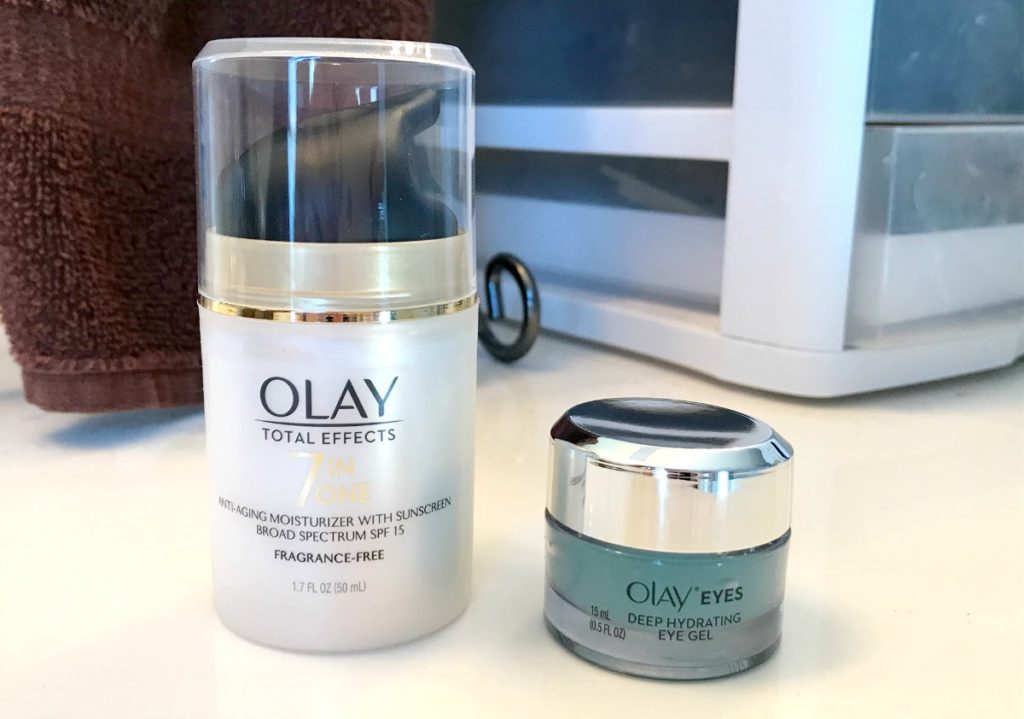 Now I'd never really been super consistent with a skincare routine. Most of the time, I wash my face at night and sometimes I'd use a moisturizer, sometimes not. I'd rarely use an eye cream and anything further than that was just too time consuming (or so I'd assumed). But starting off a new routine was easy and effective, and after the first few days (and the initial changes that I was starting to see) I got really good at remembering to use Olay Total Effects Moisturizer with SPF 15 along with the Olay Eyes Deep Hydrating Eye Gel every morning, and then just the eye gel at night and guess what – it really is easy!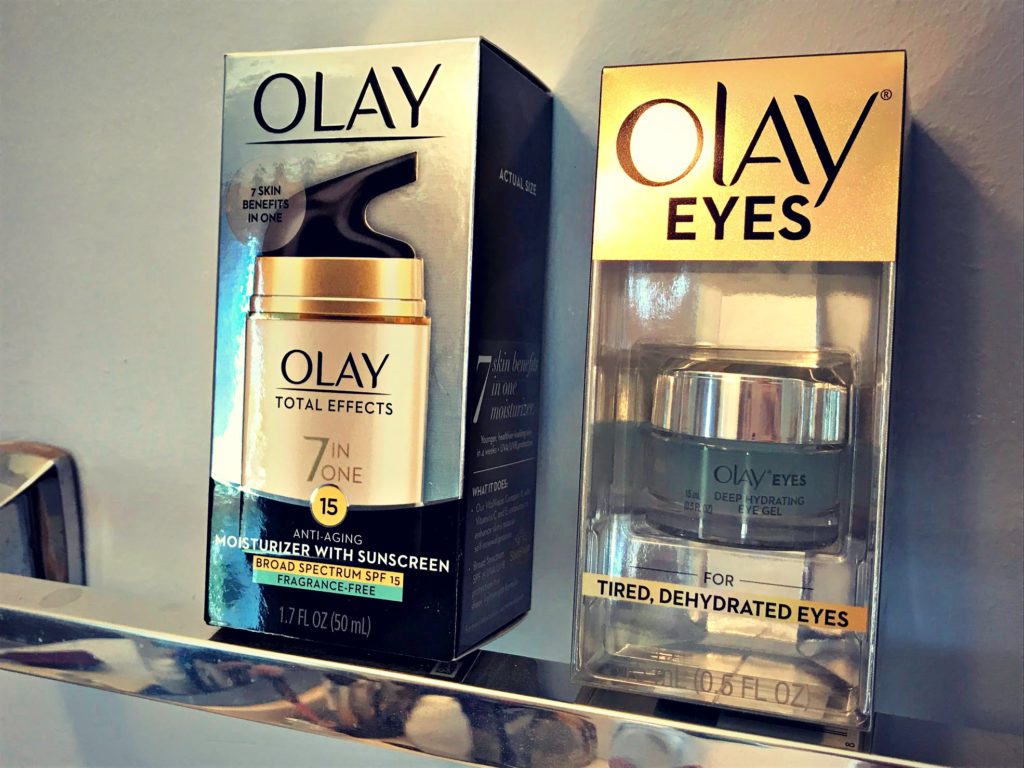 About Olay Total Effects Moisturizer with SPF 15
My usual moisturizer that I would randomly use, didn't actually have any SPF protection. So when I started using Olay Total Effects Moisturizer with SPF 15 it was a nice step up from my normal routine. I felt like my skin was more protected (it was) and moisturized. I could feel it's rich moisturizing power every time that I put it on my skin making my face feel smooth and fresh. I love that it provides healthier looking skin in just 28 days! Now I will show you my before, during, and after photos of using the moisturizer and eye gel and you can see for yourself the difference it made in my skin.
Olay Total Effects Moisturizer with SPF 15 provides 7 benefits in one little cream – it replenishes moisture, evens your skin tone and it's appearance, enhances skin brightness, smooths fine lines and wrinkles, minimizes the appearance of pores, it restores firmness and visibly reduces dark spots.
Personally speaking, I love that my skin feels softer, it looks healthier, and I feel like some of my lines have even decreased too.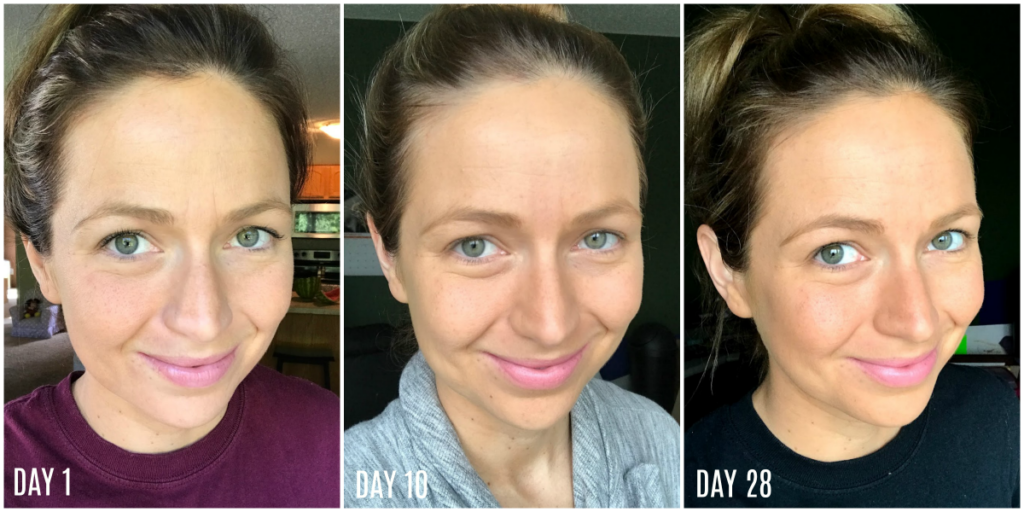 About Olay Eyes Deep Hydrating Eye Gel
I really loved using the Olay Eyes Deep Hydrating Eye Gel, it felt cool and refreshing right away. But beyond that, I could tell the difference it made in one of my problem areas – my dark circles. Looking in the mirror after about a week, I thought how much more rested my eyes looked than I actually was (lol!) and it just continued in that direction. I felt it made me look younger, and that went a long ways for my confidence.
The Olay Eyes Deep Hydrating Eye Gel focuses on hydrating tired eyes, and it plumps the delicate skin which is what I was seeing in the difference of my eyes looking more rested! I loved that my eyes looked more awake and refreshed look along with fighting signs of fatigue and under eye dehydration lines. Ultimately meaning that the sad mom look that I'd been sporting was gone and I looked so much more rejuvenated! Can you tell?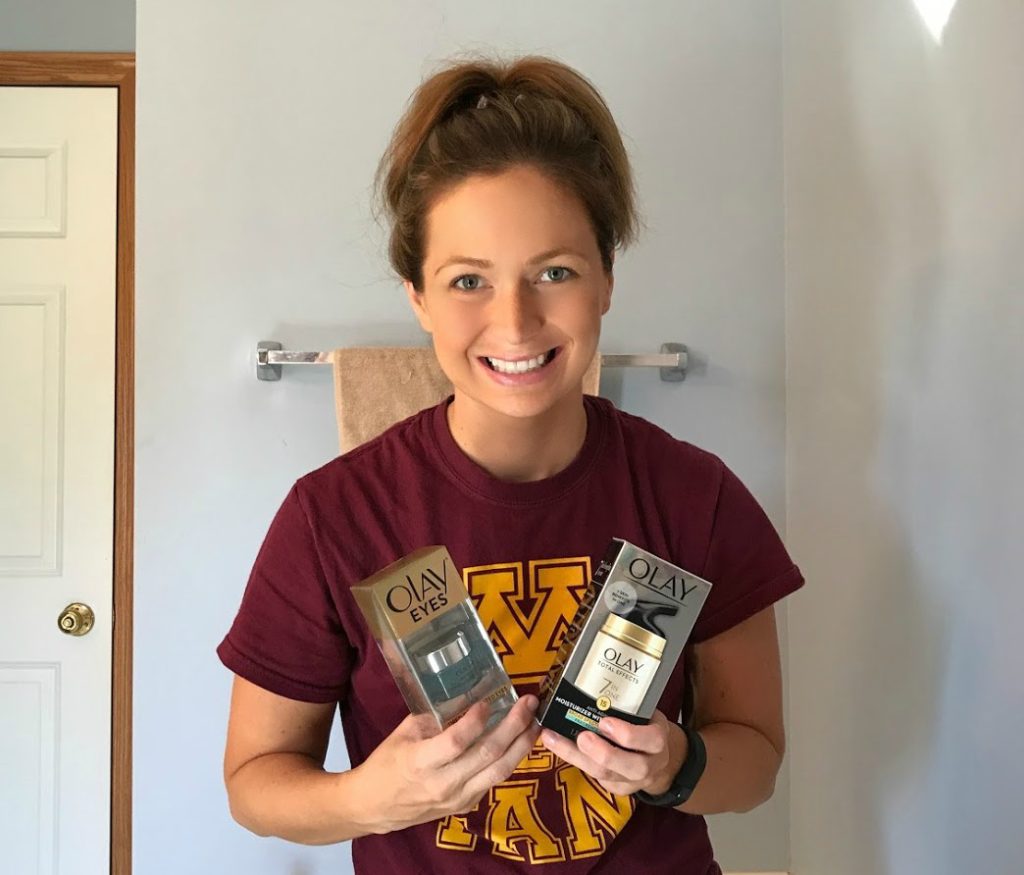 ---
Now moving along to your skin care.
Anyone can use the Olay Skin Advisor tool, and I think it's pretty handy. It provides customized skincare help in just seconds. It analyzes your skin and really finds the spots where you could improve your skin. Be sure to check it out! And as a bonus, the first 15 readers to visit the Skin Advisor and use the code: 28DAYS8395 will get $40 off their purchase of the recommended products from Olay.com! (Not bad, right??)
You could start your own 28-Day Challenge and see what kind of difference the products recommended to you would make. It's easy, and it's an awesome way to see what skincare regimen is perfect for you.