May & June Glossybox: Spoilers
I received these boxes for review. Post contains affiliate links. All opinions are 100% my own.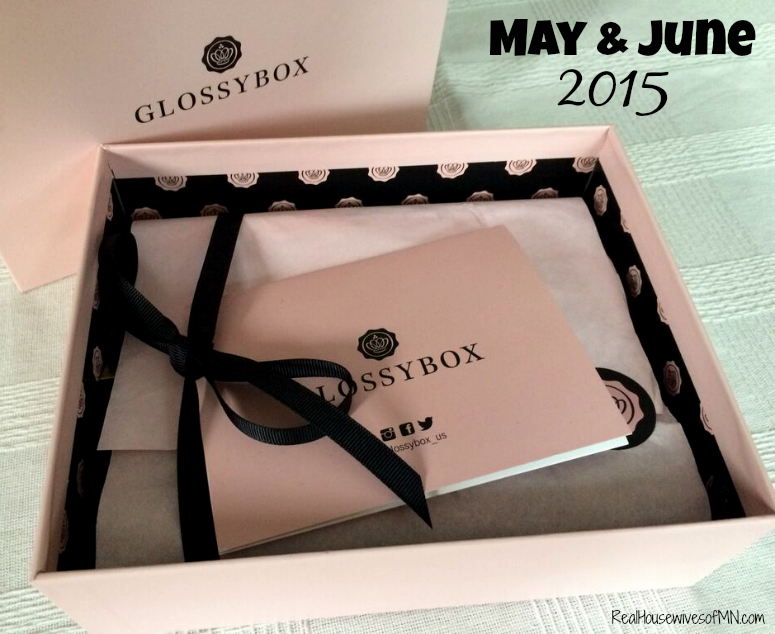 I guess you could say I'm a little behind with these posts. The May Glossybox came to my door the same day that we got home from the hospital after giving birth to LM (little miss) and it got pushed aside a little bit. Then the June box came and I was just starting to sort through the things that had accumulated on our dining room table. Life is a little more chaotic now, but I'm starting to figure out how to manage 😉
In any case, today's post is going to feature both the May and June Glossybox since they both fell through the cracks after my latest trip into Motherhood!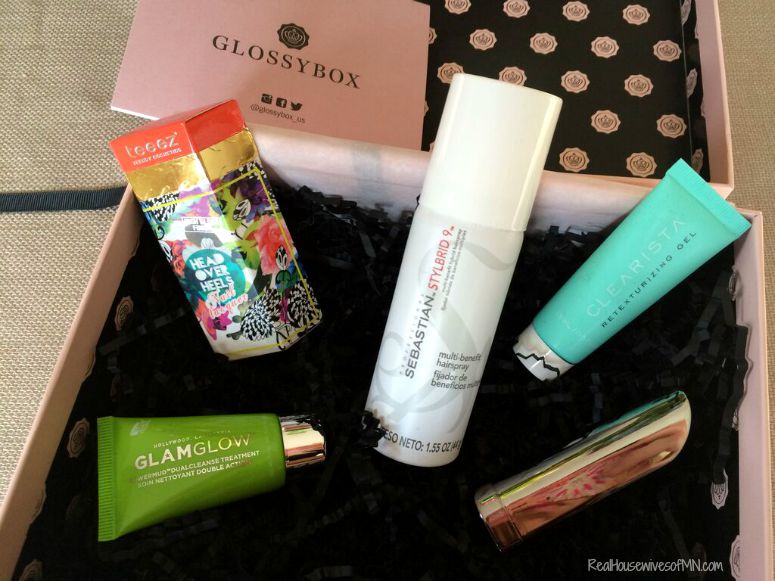 May 2015: Glossybox Contents
GLAMGLOW Powermud Dualcleanse Treatment – I absolutely love everything from GLAMGLOW and their products are just so good. This mask is hypoallergenc and features a four-clay blend to leave your skin feeling clean and smooth! (Retail: $69.00 for 1.7oz)
TEEEZ Trend Cosmetics "Head Over Heels" Nail Lacquer – With summer here, beach time is in full swing! (Well at least I hear it is, we've yet to really make it out of the house…) So get those toes looking pretty with this super smooth nail lacquer that boasts a minimum of three days staying power. (Retail: $14.00 for .24oz)
Sebastian Professional Stylbrid 9 Hairspray – Okay I love this stuff. It's one of those hairsprays that holds your hair without that sticky or clumpy feel. It's nice and lightweight but strong at the same time. Don't you love when that happens? (Retail: $19.96 for 6.2oz)
Clearista Retexturizing Gel – I wasn't sure what a retexturizing gel would do for my face, but this one was wonderful. The tiny exfoliants inside this gel help to smooth skin, refine pores, and reduce pigmentation and it really did work well on my skin. I have kind of an uneven skin tone so I could definitely notice a difference! (Retail: $79.99 for 4oz)
Doucce Mineral Matt Lipstick – Super soft, this lipstick has a really nice, rich feel and even offers your lips a dose of vitamin E and SPF 10. (Retail: $20.00 for .18 oz)
To purchase and try out all the items in this box, it would have cost me $202.95! Instead, it would only cost you $21 for a Monthly Subscription
or $60 for 3-Month Subscription
!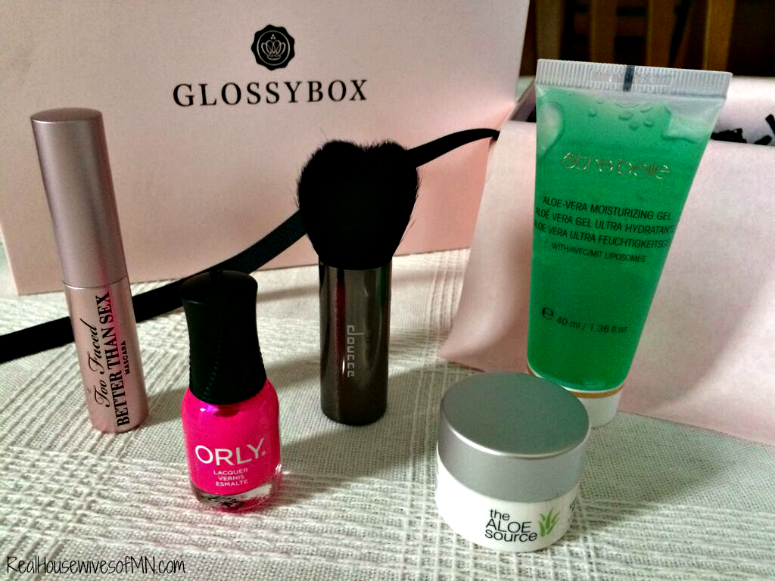 June 2015: Glossybox Contents
Too Faced Cosmetics "Better Than Sex" Mascara – I'd heard a ton of good things about this mascara before it came in my June Glossybox, so I was super excited to try it out. I really did like it! It added some definition and length to my lashes along with doing a good job of separating them to look thicker. (Retail: $23.00 for .27oz)
ORLY Nail Lacquer – This little, mini polish is free of DBP, formaldehyde and toluene which made it the perfect polish for LM's little toe nails! It was so pretty and seriously adorable – have you ever seen a newborn with pretty pink toes? It's pretty darn cute. Plus, the cap offers a neat little grip for easy painting. (Retail: $8.50 for .6oz)
Doucce Blush Brush – I love getting new makeup brushes, especially since I rarely buy them for myself (they can be expensive!) and I never know which ones to buy. This fluffy kabuki brush can be used on both blush and bronzer and is the perfect size for traveling this summer. (Retail: $32.00)
The Aloe Source Luminosity Masque – This soothing masque incorporates pineapple and papaya enzymes to exfoliate skin gently, along with aloe vera and willow herb extract to soothe at the same time. (Retail: $34.00 for 1.7oz)
Etre Belle Cosmetics Aloe Vera Ultra Moisturizing Gel – Sun and water can cause your skin to get seriously dry, but this moisturizing gel offers a lightweight hydration and helps to improve your skin's elasticity at the same time. (Retail: $24.95 for 1.36oz)
To purchase and try out all the items in this box, it would have cost me $122.45! Instead, it would only cost you $21 for a Monthly Subscription
or $60 for 3-Month Subscription
!
Plus, right now when you sign up, you will receive a complimentary Sisley anti-aging Black Rose Cream Mask (a $10.00 value) I absolutely love this mask, it smells wonderful (must be the rose scent) and it really soothes the skin. Just use promo code: ROSEMASK at checkout to get yours!


Stay tuned for my July Glossybox spoiler! Hopefully it will come to you before December 😉 Haha! I kid, it will be to you at least by November…
Until next time!
Sarah