June Glossybox: Spoiler and Sneak Peek!
I received this box complimentary to review, post contains affiliate links.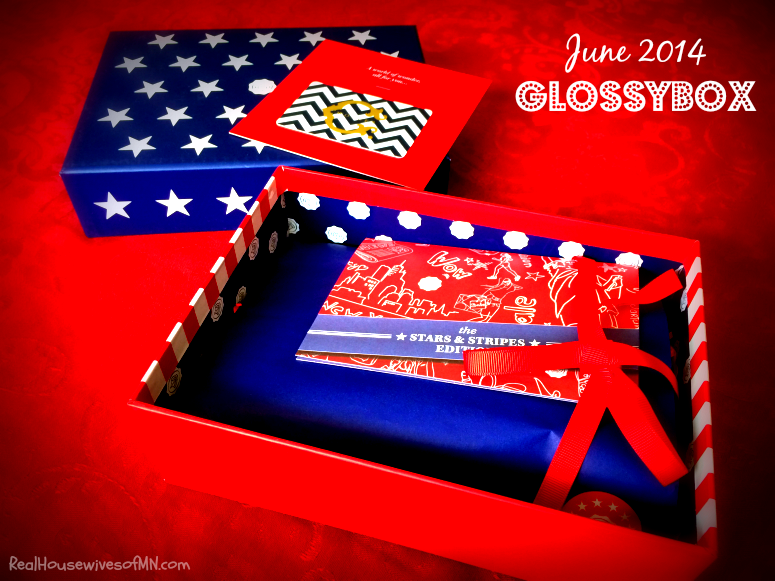 Eek! This little box that you see above was so much fun! The June GLOSSYBOX
came adorning the stars and stripes in honor of the (then) upcoming holiday: the Fourth of July! And what came inside was just as exciting as the outside of the box.
If you're not familiar with Glossybox, it's a monthly subscription beauty box that sends FIVE awesome deluxe samples right to your mailbox. It's $21/month and shipping is included!
As always, I love to give you guys a sneak peek of what came inside each month's Glossybox and this one was especially wonderful!
This Month's Contents
Here's what I found inside: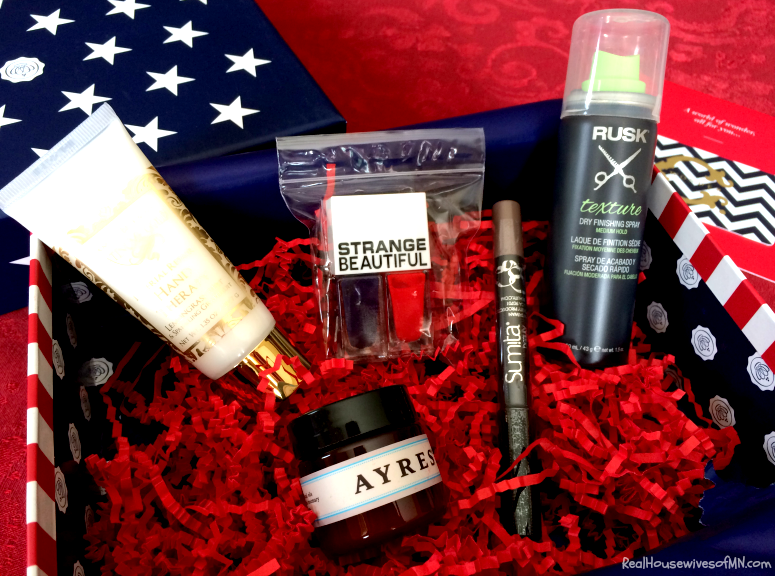 Let's start from top left and work clockwise:
Camille Beckman Platinume Gold Imperial Repair Hand Therapy – First and foremost, this lotion smells amazing! It includes botanicals like grapeseed oil and sweet almond oil along with their signature herbal complex to smell delicious. Beyond that, it also helps to hydrate, restore and soften your skin. (Retail: $10.00/ 1.35 oz)
StrangeBeautiful Colorbloc Nail Polish – This awesome two-in-one duo is great for painting your nails while you're on-the-go and especially while traveling. I really loved using these two polishes to create an awesome, patriotic nail look for the Fourth 🙂 (Retail: $18.00/ two .15 fl oz polishes)
Sumita Beauty Champagne Eye Shadow Pencil – This wide glide pencil is so perfect for a quick pop of elegance on your eyelid. It makes for a very flattering golden shade and also packs a pretty punch of shimmer for the ultimate glam. (Retail: $18.00/ .08 oz)
Rusk Texture Dry Finishing Spray – This might be my new favorite hairspray. It smells delicious and creates an awesome hold for buns, ponytail flyaways, and curls too. The talc-free spray adds texture, grip and shape for a wonderful hair boost. (Retail: $18.00/ 8 oz)
Ayres Patagonia Body Butter – Another amazing scent, I love this body butter's smooth and fragrant approach to hydration. It is also enriched with herbal extracts and vitamins to help with moisturizing your skin. (Retail: $28.00/ 6.75 oz)
BONUS: As an added bonus, Glossybox also included a mystery gift card to use at C. Wonder. This was a neat treat because I'd never shopped there (or even heard of them) before. I found their online shop and they had some really cute stuff, and my gift card covered $10.00 worth, cha-ching!
Get Glossybox
It's super easy to get GLOSSYBOX
every month, and I can honestly say that the products I have received in their boxes not only last me a while, but they have also come to be some of my favorite beauty essentials. How often can you say that?
I even get to share a little spoiler for the next box coming out this month in July!!
I'm SUPER excited to announce to you…….. GLAMGLOW!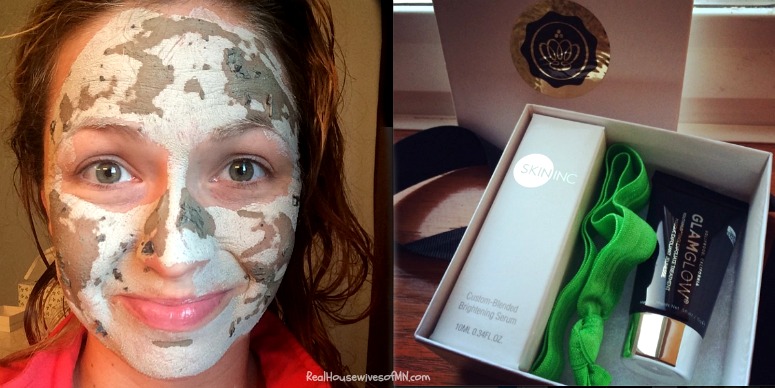 You may have heard about GlamGlow before, it's a high-end mud mask that was originally used in Hollywood. I've been wanting to try it for years but didn't want to splurge (it retails for around $65.00) but I heard amazing things about it! It's used to exfoliate, minimize  pores, brighten and tighten skin, remove impurities, and more.
Glossybox sent me a sample to try out before it comes in my next box and I am in love with it already. It went on for 10 minutes, and tingled in a cooling way. When I washed it off, my skin felt and looked amazing. It was brighter, and it felt cool, light and amazing. I can't wait to use it again 🙂
You could get this little gem plus four other samples in your July Glossybox if you order now, it's $21/month or $60 for 3-Month Subscription
🙂 I think you will definitely enjoy it. I know that I sure do!!
—-
Plus, right now Glossybox is running a promo that you can get a complimentary Ciate nail polish with a subscription to Glossybox (a $15 value). Use promo code "CIATE" to redeem! This offer is valid through July 31, 2014. Note: Offer not valid for limited edition boxes. Monthly, 3, 6 & 12 month subscriptions only.
Looking forward to hearing your thoughts! Leave me a comment below 🙂
Hearts,
Sarah

Don't miss a beat! Subscribe here for email updates and get a weekly roundup of my latest posts!