Hair & Makeover From Camille Albane Salon
Disclosure: I was given a complimentary makeover by Camille Albane.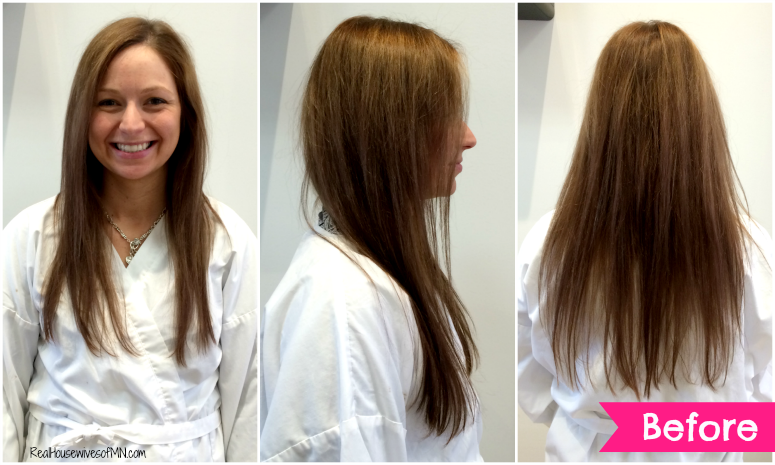 So lately, being six months pregnant and all, I really have not felt very lovely. I've kind of been neglecting my appearance and it was starting to show. When Camille Albane Paris (an awesome French salon that just opened up recently in Maple Grove, MN) offered to give me a little mommy makeover, I was so beyond excited. I would finally have some ME time! And these tresses needed some serious love…
Walking into the salon, they wrapped me in this chic white robe before we went ahead and did anything. I made sure to grab some "Before" pictures because I knew it was about to get so much better. I'm cringing now looking at these before photos, my hair was so straggly and dry, and neglected… And the color, which I had attempted from a box, was not doing me very much justice. Yuck. I don't know how I could even smile in those 'before' pictures, with that hair! Oh man, let's move forward and stop looking at those.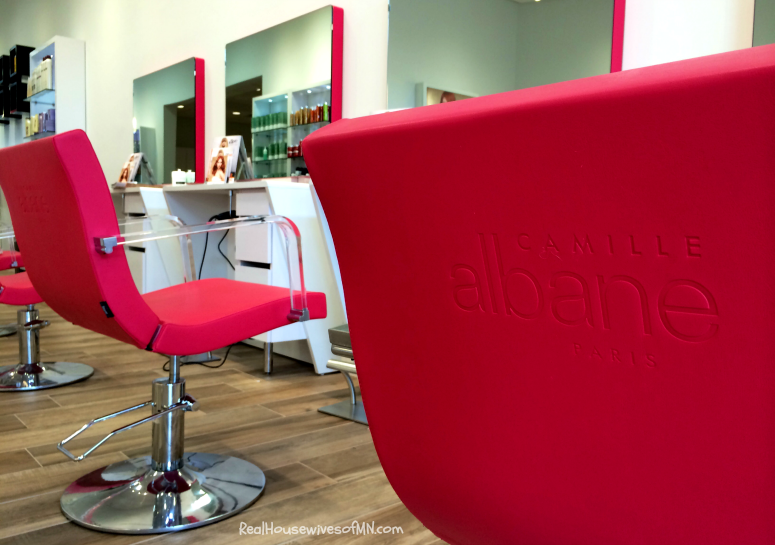 My stylist took one look at my hair and knew it was sad, and needed a boost. She consulted with me on what cut, color and style she thought would look best with my face shape, hair texture, etc. and I told her to go ahead and do what she thought would look best! I mean, it couldn't get much worse than it already was… lol 🙂
The first step was a glorious shampoo and condition in their massage chairs. These things are seriously my favorite, how many salons do you go to that have massage shampoo chairs? Love.
She then proceeded to highlight my hair with their famous balayage which in French literally translates to 'painting' of the hair. I especially loved this treatment because it is safer for us pregnant women. It involves painting strands of hair with color and letting it develop. No foil, no strong smells, and it goes really fast too!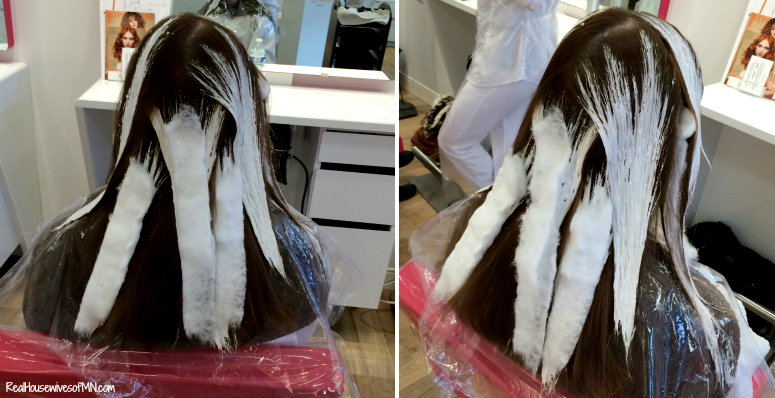 Another shampoo and deep condition later, and I've got some really good lookin' locks. But it gets even better, it was time for a haircut which would step up the look even more.
The stylist took into account that I liked volume, and would soon be a mom, so I needed a cut that gave me volume and was also easy to manage once the little one had arrived. She cut a good 4″ off my ends, gave me some good layers, and even added some simple side bangs! It's been a while since I've had bangs, but I really like how they turned out!
Are you ready for some before and after comparisons? These are always my favorite.
And they even did my makeup as well. It was the whole package! I felt like a super star when I was walking out of there. I absolutely love my new cut and color, and it's super easy to style which is going to be so nice in the future. And as for the bangs, I love them! It adds a nice dimension to my cut that is a nice change 🙂
A very special thank you to Camille Albane for giving me such an amazing makeover. It was very much needed (as you can see) and so very appreciated! I left there thinking, I'm such a lucky girl!!
Be sure to check out Camille Albane online, they're wonderful!
Until next time,
Sarah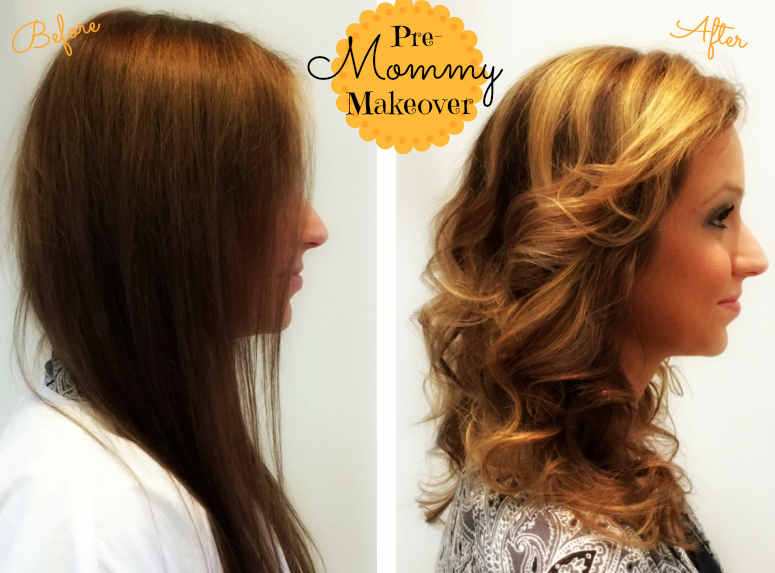 Don't miss a beat! Subscribe here for email updates and get a weekly roundup of my latest posts!