GoodEarthBeauty.com – Eye Cream Coffee Bean Caffeine by 100% Pure: Review & Giveaway
This contest has now ended. Congratulations Kelly M on winning a tube of Coffee Bean Caffeine Eye Cream from GoodEarthBeauty.com!!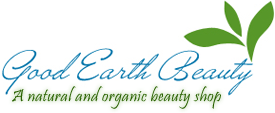 For some reason, I am always super tired. No matter how much sleep I get, I somehow seem to still yawn all day long, and have the pleasure of wearing big bags under my eyes. Usually I use concealer but it would just be nice to get straight to the source.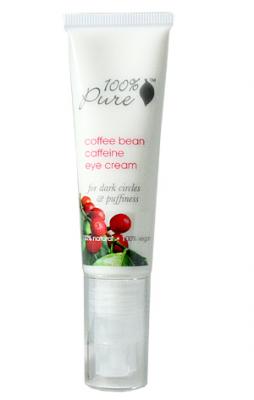 That's why I asked GoodEarthBeauty.com if I could try this Eye Cream Coffee Bean Caffeine by 100% Pure. It's 100% natural, 100% vegan and gluten free! Which is wonderful, especially after the allergic reaction I had on my face last week (from an OTC face wash – oye!) but with this natural approach, I was confident that it wouldn't irritate my skin. And it didn't! It goes on so smoothly, wonderfully and even has kind of had a coffee-like scent.
The eye cream has anti-inflammatory properties. It contains caffeine-rich green tea and coffee, and aims to depuff your eye areas, while increasing circulation which then brightens any dark circles.
"Concentrated with potent anti-aging vitamins, antioxidants, and nourishing rosehip oil to make eye area look more awake and more youthful. Truly, 100% Pure."
I've been using it for a couple days and it seems to be moisturizing along with depuffing! My eyes do look a little more youthful as well 🙂 I'm liking it! I don't expect to see dramatic results within just a couple of days – I will update you guys though as the time goes on!
If you don't want to wait to see if you win this giveaway, you can purchase a tube for yourself! They range from $9.50 to $16.50 (depending on size, I believe).
It's nice to have something that will minimize those persistent dark circles. Especially now when you are stressed, limited on sleep, and yet still having to go to holiday parties for work, friends, family, etc.
Meet GoodEarthBeauty.com
A little bit on Good Earth Beauty who provided me with this wonderful eye cream! They are a natural and organic beauty shop that offers cosmetics, bath and body, baby, and hair care products. They have a TON of great stuff on their site and I absolutely love that their products are natural, organic and not tested on animals. That is so awesome!!!
Win This Product!
Good Earth Beauty has agreed to giveaway this same 100% Pure Eye Cream Coffee Bean Caffeine to one of our readers! Want to give it a try on your tired eyes? Here's your chance!
As always, you must leave a SEPARATE comment for each task that you complete, saying that you completed it.
Entry Tasks:
Visit the Good Earth Beauty website and comment on this post with which product you would really like to try of theirs.
Follow @GoodEarthBeauty on Twitter
Follow us, @MNhousewives on Twitter
This contest will end at 11:59pm CST on December 18th, 2012. Best of luck in entering!!!
Hearts,
Sarah
Disclosure: I was not paid for this post. Good Earth Beauty provided me with a sample to try and review. All opinions here are my own.

Don't miss a beat! Subscribe here for email updates and get a weekly roundup of my latest posts!