Glossybox Turns 3: August & September BAZAAR Beauty Sample Spoiler
I am a Glossybox affiliate, and receive products complimentary to review. All opinions are my own.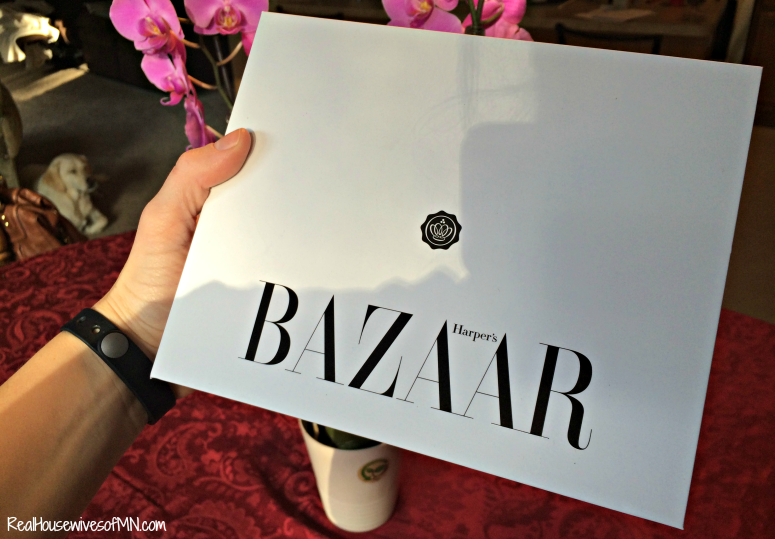 As you know, I'm a sucker for makeup, beauty products and great deals. What that boils down to is my monthly GLOSSYBOX
that I look forward to like crazy! It's packed with 5 deluxe-sized samples from high-end, luxury brands that I always completely adore!
In July, I received a box that was totally swoon-worthy. Here's what I found inside: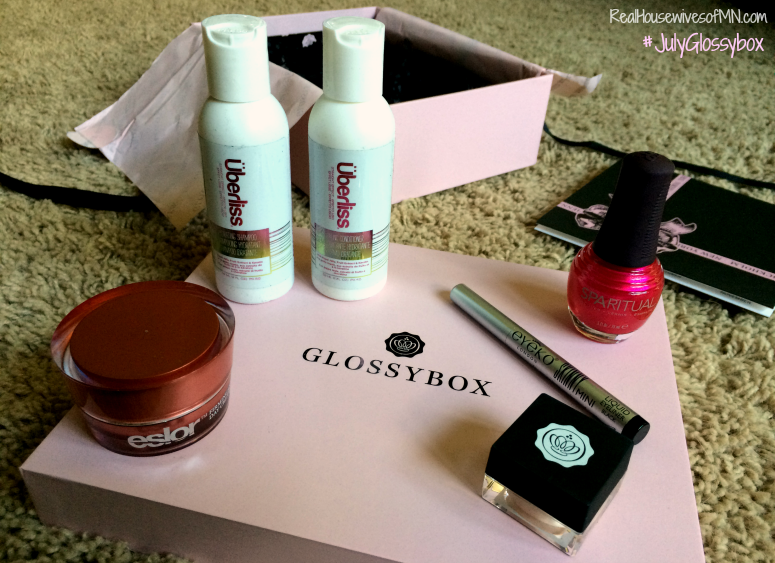 Kryolan for Glossybox – A cashmere highlighter that is smooth and subtle. I love it's light honey-color with a little bit of shimmer. It's perfect for highlighting the cheekbones, eyes, lips or brow arches. (Retail: $18.95)
SpaRitual Nail Polish – A great, colorful and thick coat of nail polish is hard to find. Plus, SpaRitual is free of DBP, camphor, formaldehyde, and toluene. (Retail: $12.00)
Eyeko Skinny Liquid Eyeliner – I absolutely love this little guy of an eyeliner. It's a skinny point with a great liquid roll to it, plus it goes on so smooth that it makes those little cat-eye wing-tips so much easier to manage! (Retail: $16.00)
Überliss Hydrating Shampoo & Conditioner – I'm loving this shampoo and conditioner, especially it's scent! It includes a mix of apple, sugarcane, green tea, lemon peel, blueberry, royal jelly and keratin. Plus, they are sulfate-free! (Retail: $23.90-25.90)
Eslor Firming Collagen Day Cream – With winter around the corner, my skin is already getting dry, especially my face. So when I got to try out this wonderful day cream that also utilized collagen, oils, and anti-aging properties, I was sold. It's used to promote elasticity and also to prevent the appearance of fine lines and wrinkles. (Retail: $85.00)
It was an awesome box to celebrate three years worth of cutting-edge beauty products. A total value worth of $155.85 in just this cute little pink box!!
September Harper's BAZAAR Box
And then, as if that wasn't exciting enough, my September GLOSSYBOX
came as well! It was a special, featured Harper's BAZAAR box that had some AWESOME beauty products in there. Here's what this one had in store: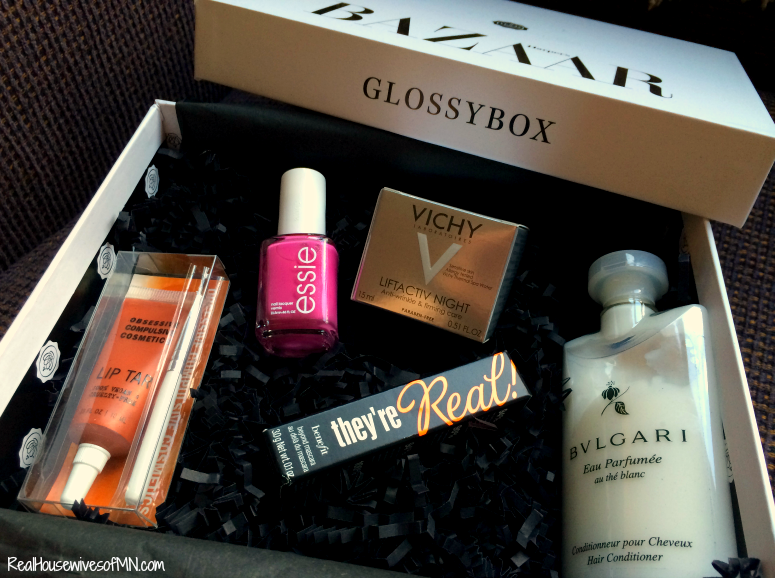 Let's do a quick roll call.
Essie Madison Ave-Hue Nail Polish – This amazingly pink color looks fabulous, it is a mixture between playful and chic, and I've been wearing it for a week without chipping! (Retail: $8.50)
Benefit Cosmetics: They're Real! Mascara – I've heard amazing things about this mascara and was dying to try it out. What I found out was that it really does give you full, lush lashes. It even has a little flared tip on the end to lift and separate your lashes after covering. I'm in love! (Retail: $23.00)
Bvlgari Eau Parfumee au the Blanc Conditioner – Don't let the long, and very Italian name fool you. Okay, do let it fool you because it screams elegance. This nice and gentle cream conditioner leaves your hair with a delicious, chic scent. I'm obsessed with fragrances by Bvlgari anyways, so this was no exception! Love. (Retail: $45.00)
Vichy Liftactiv Night Cream – An excellent night cream that repairs skin, helps with anti-aging, and reduces appearance of, you got it, fine lines and wrinkles. It also helps to boost your skin's firmness and hydration at the same time. (Retail: $50.00)
Obsessive Compulsive Cosmetics Lip Tar – Fortunately for me, I got to try out a couple different shades of the Lip Tar and I really like it. It doesn't feel sticky at all, and it provides just a really nice gloss with a long-lasting color. The one in this box particularly is the Metallic in Authentic which is a nice copper shade with an incredible shimmery finish. (Retail: $18.00)
As you know, I love to combine what the total retail would be on goodies I get in my Glossyboxes. For this BAZAAR box, it would be over $144! Lucky for us, Glossybox is only $21 for a Monthly Subscription
… and you get a box packed with beauty goodies that you've probably been eyeing up for months!
PLUS – They have a special right now that when you sign up for a monthly box, you'll receive a FREE Boscia B.B. Cream (a $38.00 value) when you use promo code: Flawless at checkout. An awesome deal!
So if you haven't signed up yet, don't waste any time because you don't want to miss out on the goodies we'll be seeing next month!! I'm already excited! 🙂
Hearts,
Sarah

Don't miss a beat! Subscribe here for email updates and get a weekly roundup of my latest posts!