Glossybox Spoilers: August, September, October!
I received this box complimentary for review and as a Glossybox affiliate.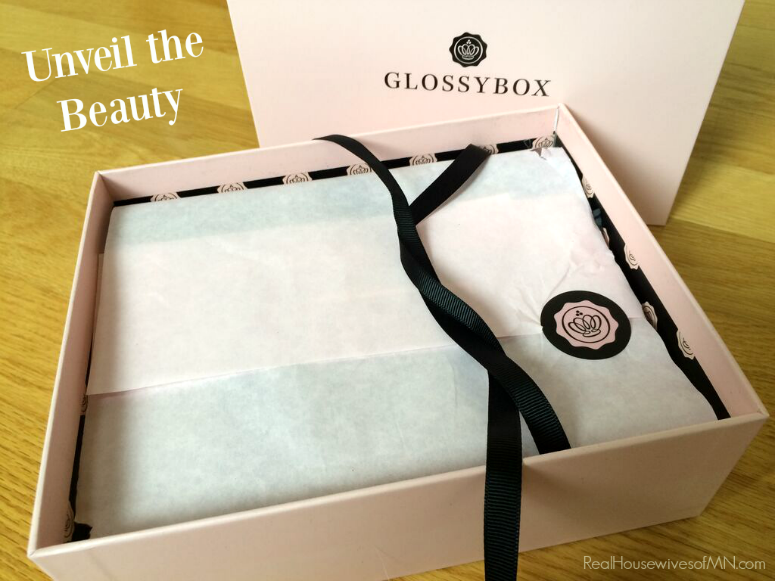 I'm kind of obsessed with Glossybox. Each month, it's like a birthday gift to myself – and it's always amazing beauty products that I've either just discovered or have been wanting to try out. Each box includes 5 premium products, and not just items that you'd get for a few dollars. I've seen items that retail up to like $200-300, and have been able to try a nice sized sample of them!
This post is going to give some sneak-peeks into the last few month's boxes. If you're not getting Glossybox yet, you need to get on that because you are seriously missing out!
August 2015 Glossybox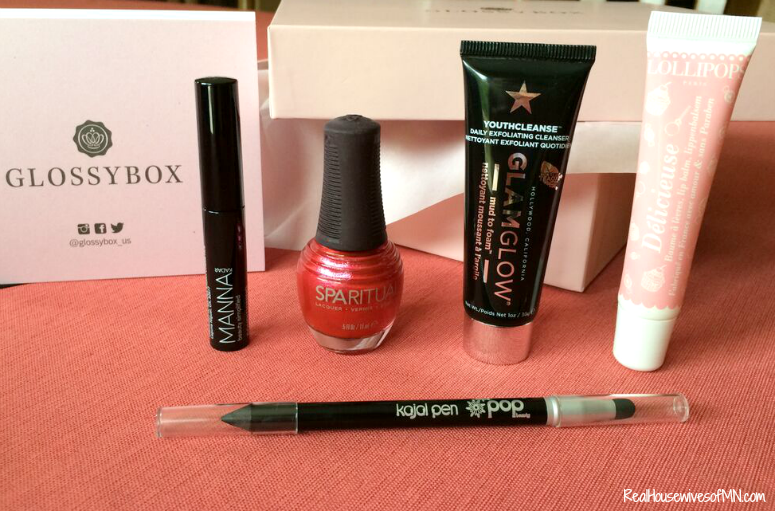 Manna Kadar Cosmetics Lash Primer – Kind of like you use primer for your face, this is the primer for your lashes! It's a base coat that is made to help nourish lashes and prevent flaking to help your mascara last longer. (Retail: $24.00)
Sparitual Nail Lacquer – I'm developing a nice collection of Sparitual nail polishes and I don't even mind a little bit! They are so nice, glossy, and durable. (Retail: $12.00)
GlamGlow YouthClense Daily Clearing Cleanser – Ohhh I just love GlamGlow but I never like to spend the money on it. However, this month I got to test out this cleanser from their lineup and it's so nice. It has little exfoliating beads in it to help renew skin and remove dead surface cells. (Retail: $39.00)
Lollipops Makeup Lip Balm – Yummy! This lip balm helps protect against UV rays and pollution with a paraben-free formula. Plus, it contains antioxidants, and macadamia nut oil to moisturize and look lovely. (Retail: $5.50)
Pop Beauty Kajal Pen in Sooty Black – This eyeliner is smudgable and glides on smooth. It also has a sponge on one end to help smudge and add a little smokey effect. (Retail: $10.00)
This month's total? These samples added up to a value of $90.50, what I would have spent to try out these products instead of receiving them in my monthly subscription. Score!
September 2015 Glossybox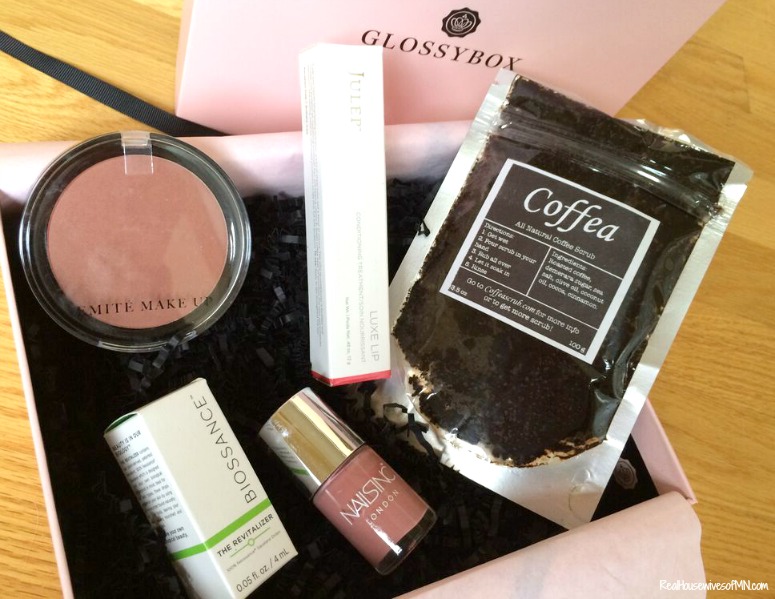 Mite Make Up Artist Colour Powder Blush – This blush helps create seamless definition in your cheekbones with a peach-toned pigment. The ingredients in this blush actually help to give you a natural glow. (Retail: $22.00)
Julep Luxe Up Your Lips – Okay, this one was a first for me. This lip gloss has a cool, Zamac (metal) tip to boost microcirculation and to soothe them as well. It's lovely and I love it! The ingredients include vitamin E, pumpkin seed oil, and other natural ingredients to perk up your pout. (Retail: 24.00)
Coffea Coffee Scrub – I've heard of using coffee grounds before for your skin but had never tried it before. But hey, I do like coffee in the morning, who cares if it's in the shower or in a cup? This natural scrub will help your skin feel smooth, and it even helps to combat stretch marks, dry patches and poor circulation. (Retail: $16.00)
Biossanse The Revitalizer – I love, love, LOVE this face serum. It uses scalene (which is a natural emollient in our bodies that help hydrate and replenish our skin) to give your face a boost and banish dull skin. It feels so hydrating and wonderful! (Retail: $58.00)
Nails Inc Uptown Nail Polish – Uptown funk you up. This polish gives a super glossy, long-lasting finish in a pretty 'dusty rose' hue. Perfect color for fall! (Retail: $14.00)
This month's total? These samples added up to a value of $134.00, what I would have spent to try out these products instead of receiving them in my monthly subscription. Win!
October 2015 Glossybox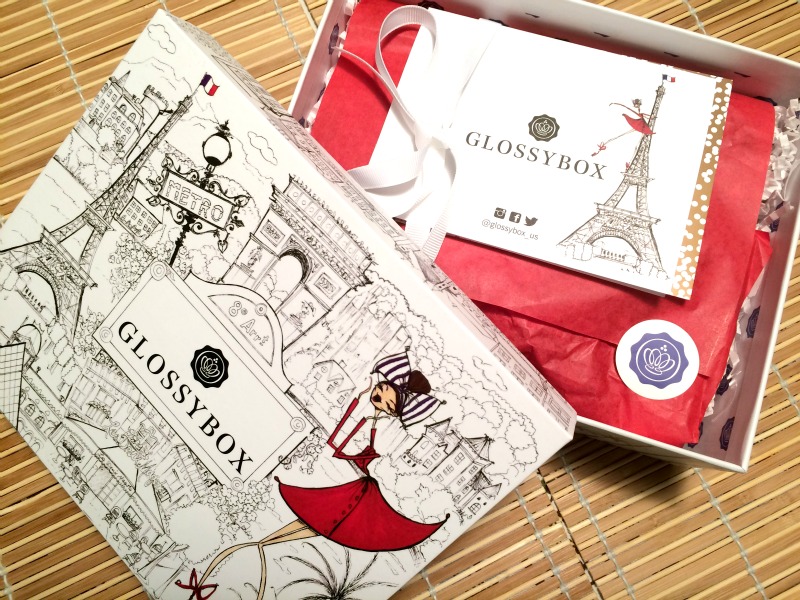 This month's Glossybox had a fun French theme! The box is adorable, I'm going to figure out something fun to do with it. But in the meantime, here's what came in this box!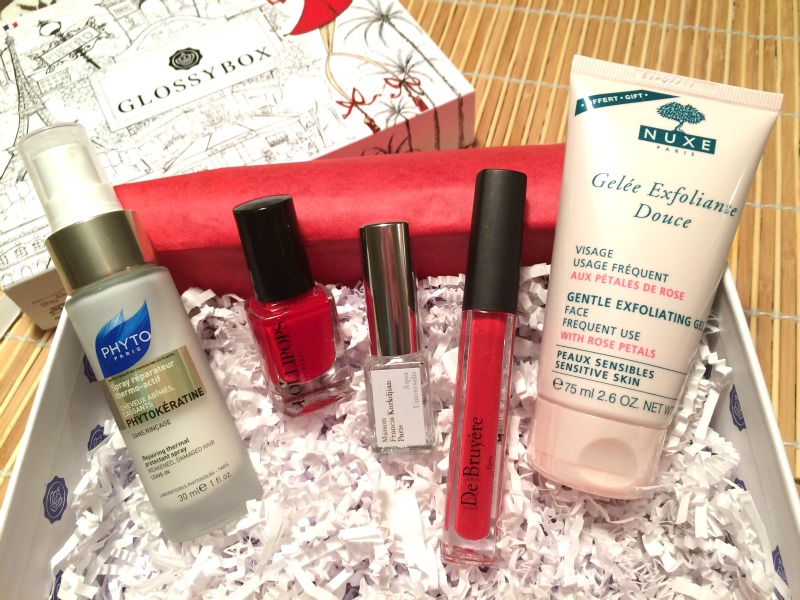 Phyto Repairing Thermal Protectant Spray – Protect your locks with a spritz of this heat-protection spray (before styling). It also helps to detangle (always a process for me), and prevent future damage to your hair. (Retail: $32.00)
Lollipops Make Up Paris – This nail lacquer in "Voyage a Paris" is bold and beautiful. Make a statement with a pop of red in your wardrobe, it can easily go from office to out on the town (notice how they always say 'paint the town red'? Yup.) (Retail: $10.00)
Maison Francis Kurkdjian Aqua Universalis – Mmmm… Need a new perfume? I did, and I'm glad this one came just in time because I love it! It has a beautiful, citrusy-like scent with a combination of woodsy and florals. Apparently the scent combines native Italian notes that is befitting of Marie Antoinette! (Retail: $185.00)
De Bruyere Paris Lip Gloss – This bright red, Parisian-inspired gloss is perfect for stealing the spotlight. Give the cast of Moulin Rouge a run for their money! (Retail: $17.50)
Nuxe Gentle Exfoliating Gel With Rose Petals – This gel gives your face a gentle cleansing from dead skin cells to give your face a radiant glow. It uses roses, ground walnut shells and lychee to get the job done! Plus, as an added bonus it is gentle enough for sensitive skin. (Retail: $24.00)
This month's total? These samples added up to a value of $268.50, what I would have spent to try out these products instead of receiving them in my monthly subscription.
---
As you can see, I'm pretty set when it comes to beauty items these days! I am just in love with how easy it is to try out new luxury products without spending a fortune at the store. The subscription to Glossybox is only $21/month and includes free shipping!
SO worth it.
Plus, if you sign up this month you'll receive a free Doucce Liquid Wear Eye Liner (a $24.00 value!) Just use code: LIQUIDEYE at checkout.
Until next time,
Sarah

Don't miss a beat! Subscribe here for email updates and get a weekly roundup of my latest posts!