Glossybox Spoiler: July 2015
I received this box complimentary for review. Post contains affiliate links.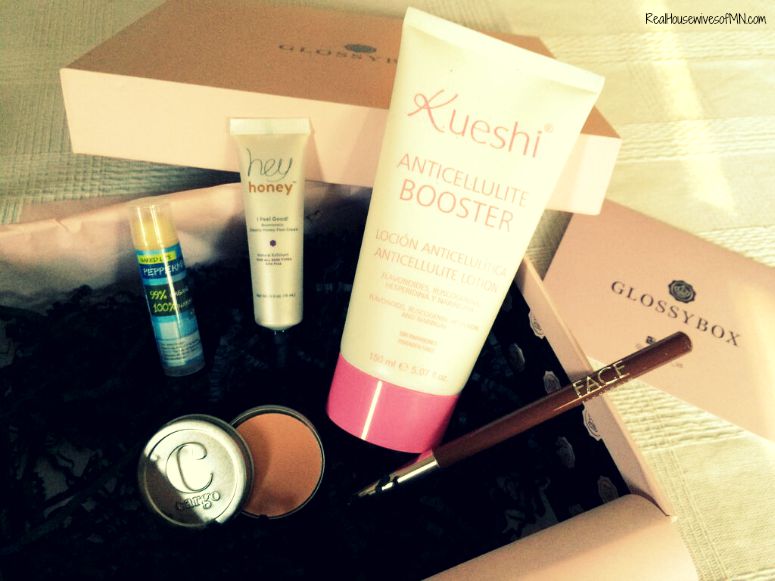 Every month, I love getting my GLOSSYBOX
samples in the mail. I get seriously excited to open it up and see what kinds of beauty items I get to try out this time. The latest box that came in the mail was my July Glossybox. It was packed full of items that I already absolutely adore.
As always, I love to share what types of products I get. So without further ado, here is what I got to sample this month!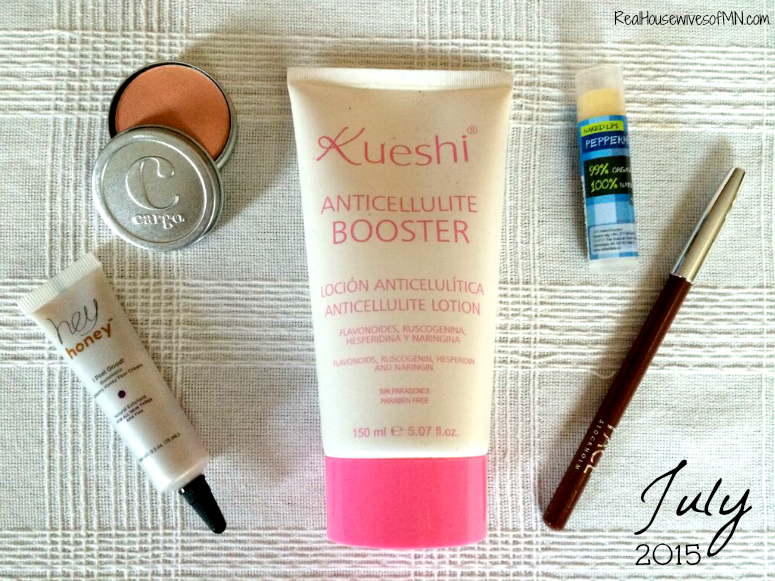 July 2015 Glossybox Contents
Hey Honey I Peel Good! – This treatment helps to improve your skin's elasticity and texture after even one application. It offers skin hydration, exfoliation and protection. It even reduces stretch marks and helps to protect skin with natural lipid barriers. (Retail: $59.00 for 1 oz)
Cargo Cosmetics Water Resistant Blush – I'm loving this blush, it's compact to pack and use plus it is sweat and water resistant. Wear it to the beach, to the gym, or just in everyday life to give yourself a beautiful glow. (Retail: $26.00 for .31 oz)
Kueshi Anticellulite Booster – I have been using this for a couple days and looking forward to seeing results. The cream is enriched with flavonoids to inhibit formation of fat cells and to also reduce swelling. Just massage into skin after a shower and leave on overnight to allow it to work into problem areas. (Retail: $22.60 for 5.07 oz)
Face Stockholm Lipliner – Looking for a smooth, soft liner to accentuate your lips? This one is enriched with vitamin C, vitamin E, and fruit-derived wax. (Retail: $17.00 for .07 oz)
Naked Lips Organic Lip Balm – I'm a lip balm junkie, it's the truth. So when I seen this one in the July Glossybox, I was excited to try it out. It's super creamy and even offers a nutritive blend of antioxidant-rich oils. It's 99% organic and 100% natural, plus it comes in a refreshing peppermint flavor. My favorite!! (Retail: $5.50 for .15 oz)
As always, I love to add up the total retail cost that it would have cost me to try out these high-end beauty products. This little haul would have cost me over $130! Instead, you can get these samples delivered to your door, it's just $21 for a Monthly Subscription
!
Plus, right now when you sign up for Glossybox, you'll receive a complimentary Sisley anti-aging Black Rose Cream Mask ($10.00 value) when you use code: ROSEMASK at checkout! I have this beauty mask and it is awesome, plus it smells amazing. You'll love it!
Do you love trying out new beauty products? Don't waste your money on buying them full size, check out Glossybox and try them out for much less!
I'm already excited to see August's Glossybox!! Stay tuned 🙂
Sarah

Don't miss a beat! Subscribe here for email updates and get a weekly roundup of my latest posts!