Glossybox: June Beauty Sample Box
I was provided a complimentary Glossybox in order to review for this post. I was not paid for my opinions, and all opinions are 100% my own. Post may contain affiliate links.
Ooooh I just love getting these Glossyboxes in my mailbox! It's like my birthday every single month. The glamorous little box fills up my mailbox as a nice little surprise as I skip inside to open it up! If you're not familiar with GLOSSYBOX
, it's a monthly subscription box that contains deluxe beauty samples. It's awesome!!!
Sidenote: If you haven't seen it yet, check out my post about May's Glossybox and the beauty items that were inside. They were amazing!!
Check Out The June Glossybox

Here is what I found in my jam-packed June Glossybox: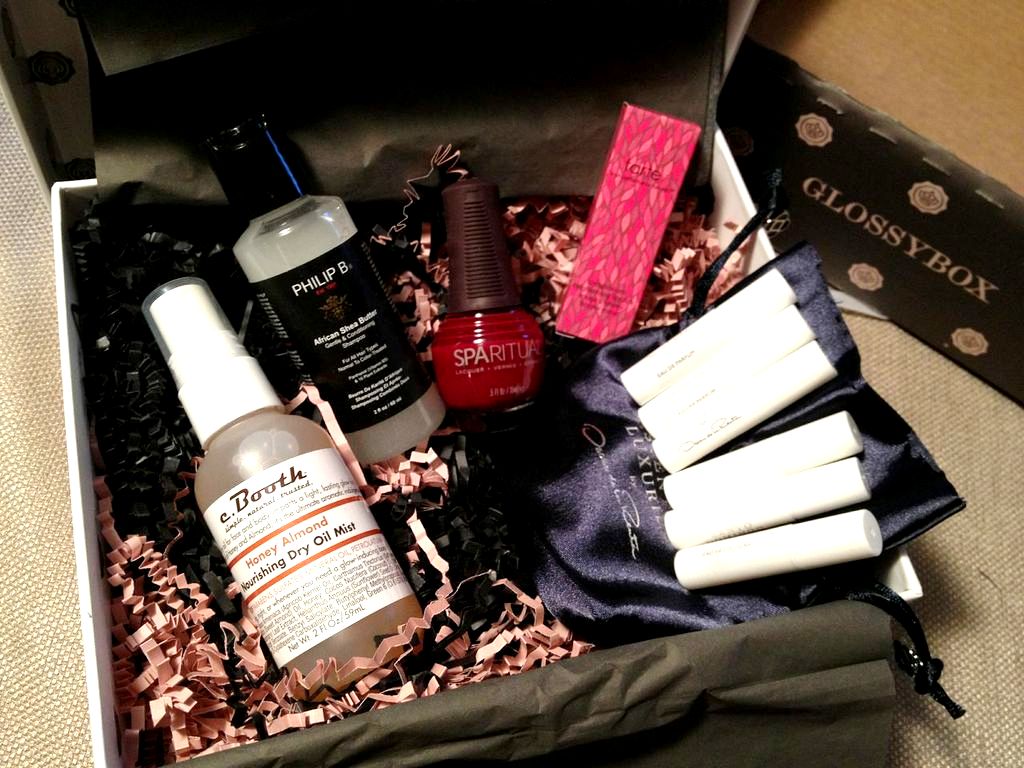 And here's the breakdown of the ingredients:
1. c Booth Honey Almond Nourishing Dry Oil Mist – This soothing mist is made to soften and hydrate plus provide a nice radiant glow. Personally, I love using this stuff. I use it before bed and when I wake up to give my skin a little glow-inducing boost plus a little hydration. (Retail: $8.00)
2. Philip B. Shea Butter Shampoo – A botanical shampoo that is made to help out a broad range of hair types, from dry and damaged to color-treated, to hair that needs volumizing, to wavy/curly hair, fine hair, oily hair or flaky hair! This product line is made for it all. (Retail: $28.00)
3. SpaRitual Nail Polish – This beautiful nail polish comes in many modern shades. Enjoy a variety of fun nail colors this summer with SpaRitual favorites nail polish. I got red in my Glossybox and it was beautiful! (Retail: $12.00)
4. Tarte Complexion Enhancing Lipstick – This gorgeous lipstick is so neat! It is made to enhance your complexion and looks fabulous! It's a creamy lipstick with a glossy core that leaves an unbelievable color on your lips. I'm in love. I love Tarte brand to start with, but this was wonderful! Plus, the eco-friendly packaging was so cool! (Retail $29.00)
5. Oscar de la Renta Essential Luxuries Perfumes – A fun mix of perfume samples from Oscar de la Renta came in this gorgeous little silk pouch, and they all smell divine! How often do you get to try out SIX different perfume samples from Oscar de la Renta?? That just doesn't happen. These will last me a while, and I love the smell of each and every one of them. They all have their own occasion to go with 🙂 (Retail $150.00)
As you can see, I got a ton of value in my beauty items that came in the June Glossybox. Totally worth the subscription value!!
How to Subscribe to Glossybox
Have you considered signing up for Glossybox yet? You should think about it. Each month, you'll receive 5-6 deluxe sized beauty samples that are delivered right to your door! Shipping is included in your monthly subscription cost too, so what you pay is the total cost. No shipping fees added on after. So nice!
What does a subscription to Glossybox run? Here's the details:
Their packages range from:
Ready to try it out? Subscribe to Glossybox and start trying out these awesome beauty samples. You can unsubscribe at any time if you feel that it's not your cup of tea.
What do you think? Which of these products would you like to try out?
Hearts,
Sarah
Disclosure: I was provided a complimentary Glossybox in order to review for this post. I was not paid for my opinions, and all opinions are 100% my own.