December Glossybox Beauty Samples
I received a December's Glossybox for free in order to write this review. Post contains affiliate links.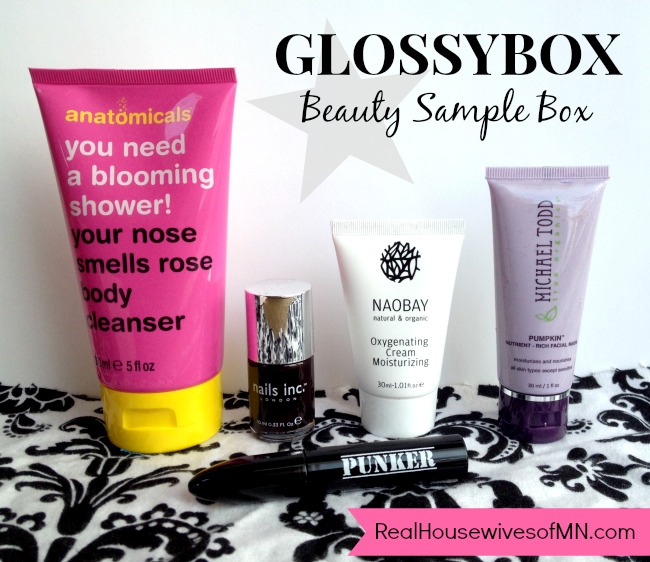 It's that time again! Time to share with you guys what I got in my December GLOSSYBOX
. My final beauty box of 2013! And it did not disappoint.. As you can see in the photo above, there were 5 great-sized samples to try out, and each of them a luxury brand!
A Peek Inside:
Anatomicals YOU NEED A BLOOMING SHOWER! – This body cleanser smells really yummy! It has a light floral scent that sticks with you. I just love the smell! It uses rose and jasmine as well, which are known for their healing properties. (Retail: $9.50)
nails inc. Victoria Polish – This violet polish is gorgeous. The polish itself is designed to last a long time and also to have a nice, glossy finish. Above that, it dries in 45 seconds! (Retail: $9.50)
Naobay Oxygenating Cream Moisturizing – This thick cream is really nice in this winter weather. It has a light scent and is absorbed quickly on your face to serve as a nice base for your makeup. It also utilizes high-quality plant extracts and organic vegetable oils, like Rosehip oil and Sweet Almond oil, to help balance your skin. (Retail $45.00)
Michael Todd True Organics Pumpkin Nutrient-Rich Facial Mask – This facial mask uses pumpkin enzymes to unclog your pores, and remove dead skin. It leaves your face with a much brighter, more radiant glow. This came with perfect timing because my aesthetician just sent me home with a pumpkin cleanser that's been working great on my skin as well! (Retail: $34.00)
Ardency Inn PUNKER World's Baddest Eyeliner – This thick eyeliner has an over-sized felt tip and is aimed at easy and versatile application. It was a little thick for me, but it was definitely easy to apply and it did last long as well. (Retail: $19.00)

I absolutely love getting my beauty samples from Glossybox every month. It's something I look forward to! Sometimes, I even save opening them for when I'm having a bad day because I know it will do the trick of perking me up 🙂 It's the little things sometimes!
You can get GLOSSYBOX
too! (And a HUGE spoiler alert... a little birdie told me they are doing something with the beauty blender for their January box!!!)

So hurry and sign up for Glossybox and treat yourself to some pampering! Here's the details:
Trust me, it's worth it to try out all these nice beauty samples. And the items you get are actually a good size! That is my favorite part.
Then after you try it, come back here and let me know what you think!!
Hearts,
Sarah

Don't miss a beat! Subscribe here for email updates and get a weekly roundup of my latest posts!