Beautifully Blonde Fall Highlights: My Ulta Beauty Experience
This is a sponsored post in collaboration with Ulta Beauty. I was hosted with complimentary services in exchange for my thoughts on their new location. All opinions are my own.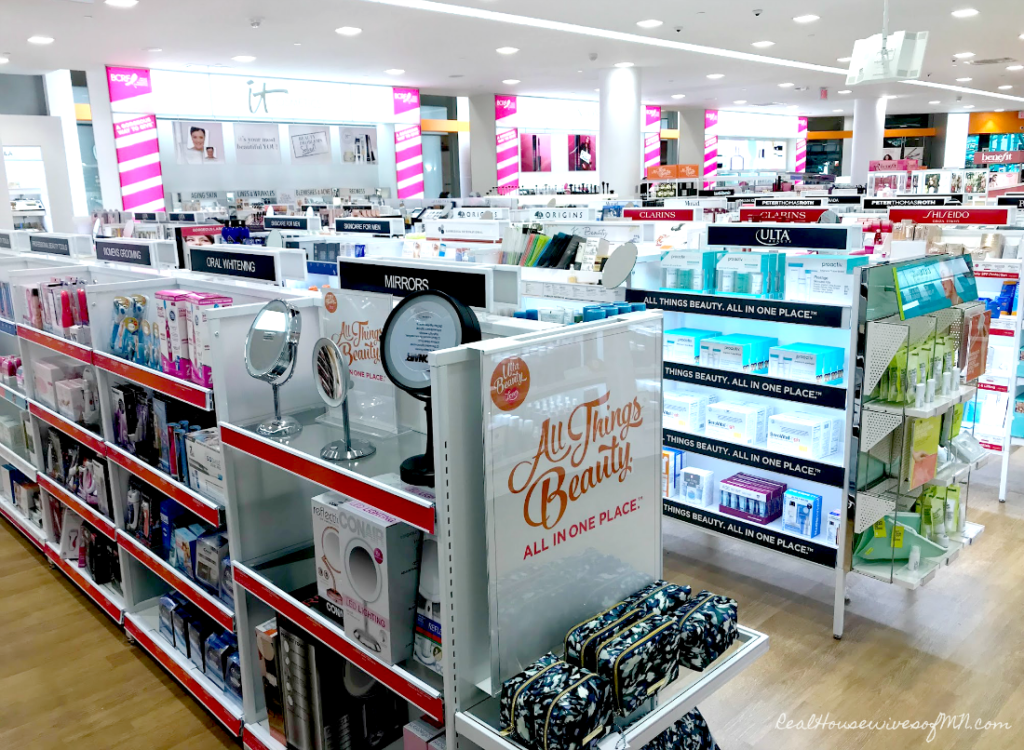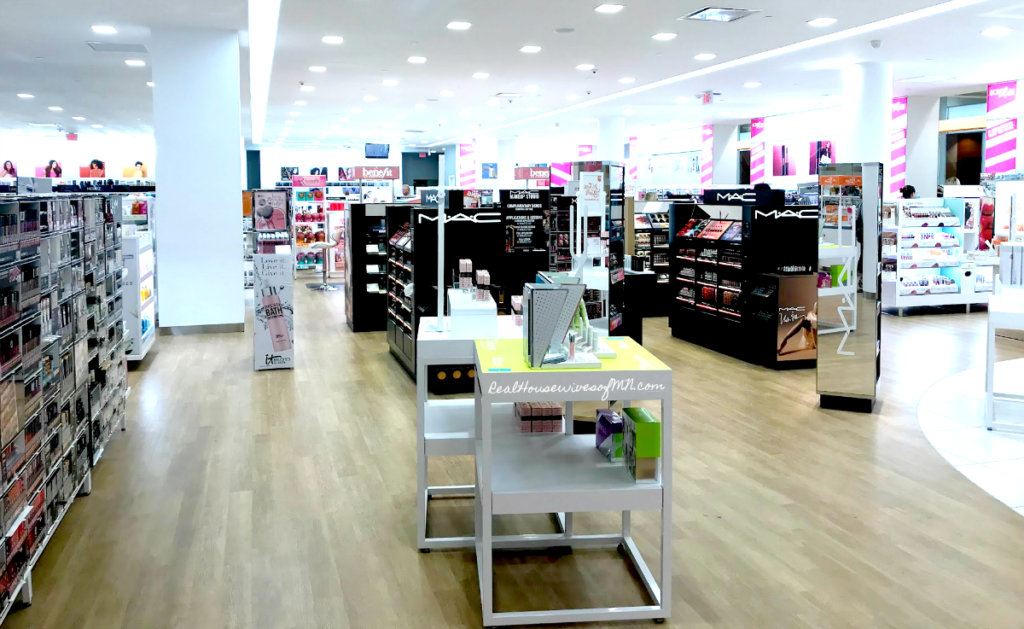 Last week, I posted about the new Ulta Beauty at the Mall of America that opened last weekend (you can see that post here). Well I was fortunate enough to be able to book some time with their top notch color king and Salon Manager, Mark. He took my colorless, lifeless locks and transformed them into something gorgeous!
Many people don't realize that they have a full salon there at Ulta Beauty, but they do and it is wonderful! You can book anything from a cut and color to styling, all-over color, highlights, balayage, blowouts, smoothing treatments, deep conditioning treatments and even extensions (just to name a few).
When I went in that morning, Mark sat me down, looked over my hair thoroughly and listened to what I was hoping to have done. He made recommendations based on my hair's current condition (which was dry, brittle and damaged) and it's color (knowing that it would lift easily or not) plus he even pointed out that I must have heavy iron levels in my water (which I do, thank you suburbs!) which would effect how my color looks. Based on all this, he was able to put together a little plan for how we could best achieve the look I wanted – all the while making sure my hair would come out healthier in the end.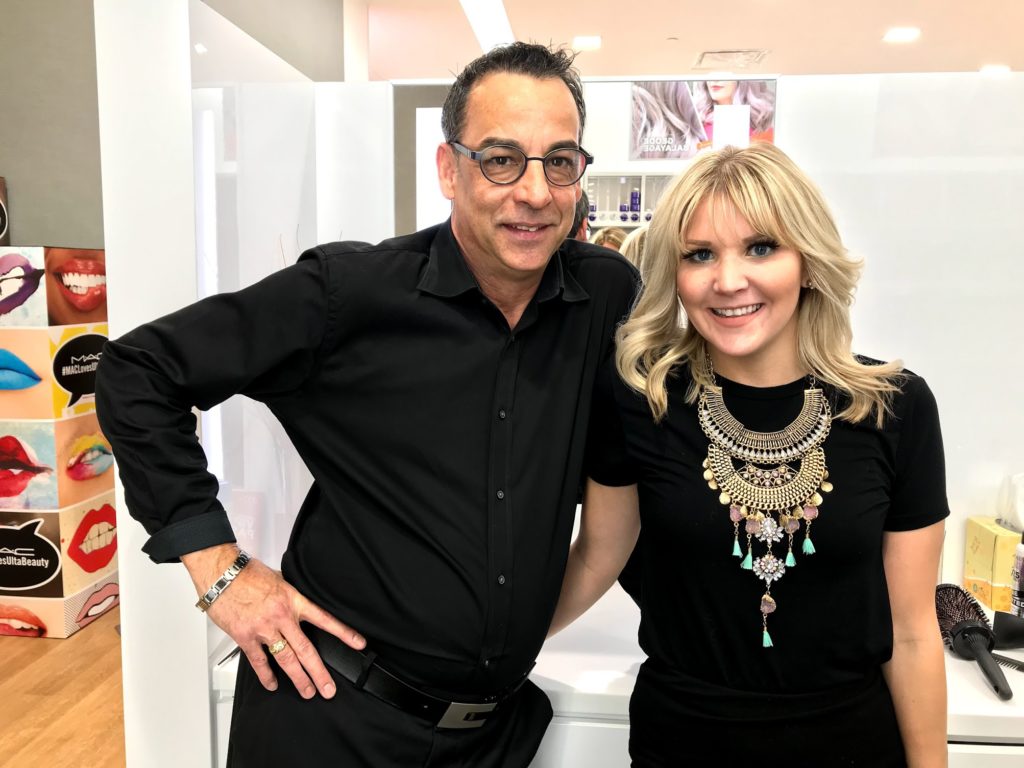 He put the extra effort in to make sure every step was thoroughly executed for optimal results. I appreciated this greatly, because when you're taking the time to get your hair done (and spending the money to do so) it means a lot that your stylist gives you a real, personal treatment with extra attention to detail. Through the whole process, I was confident that when we were done, it was going to be amazing.
And it was.
Missy finished off the look with a beautiful blowout and style. She really did an awesome job too. Here's a look at the before and after, it felt so much healthier and lighter when we were done!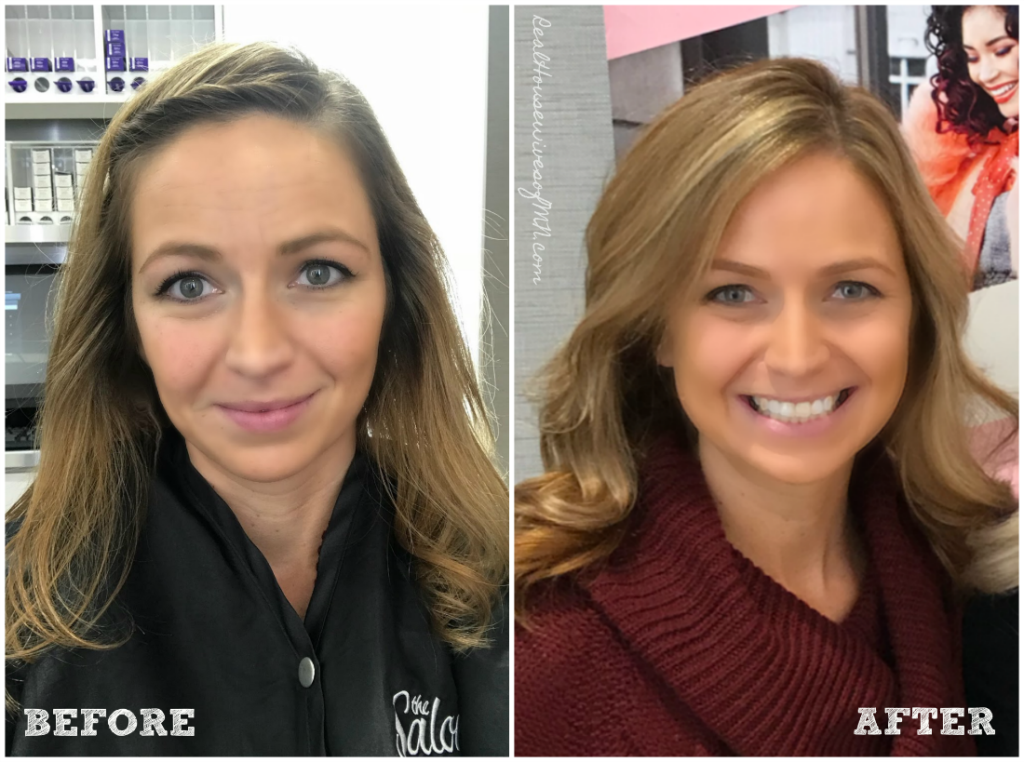 Also, can you tell that I made a stop at the Benefit Brow Bar while my color sat? Check that out in the image above too. It was an amazing two-stops-in-one kind of deal. Because you know us moms, we're the queens of multi-tasking. So I decided if I was going to have down-time, I was going to make the most of it.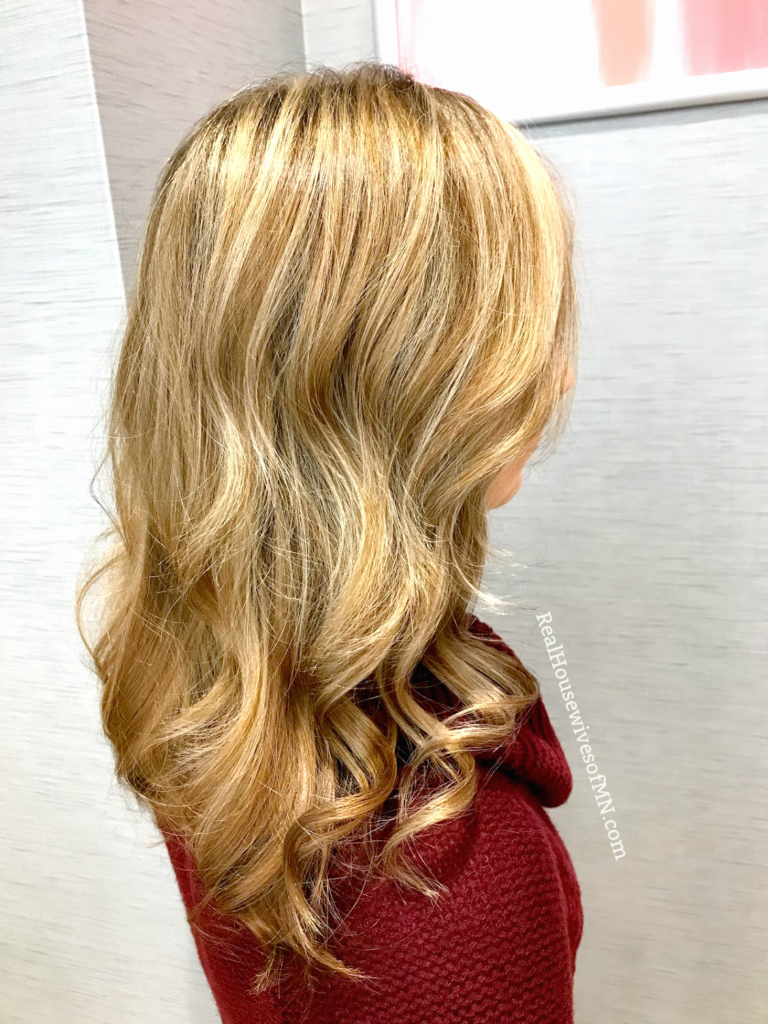 Benefit Brow Bar Experience
The Benefit Brow Bar was literally a matter of steps away from the salon, so it wasn't a big deal to step down there for a bit, hair foils and all.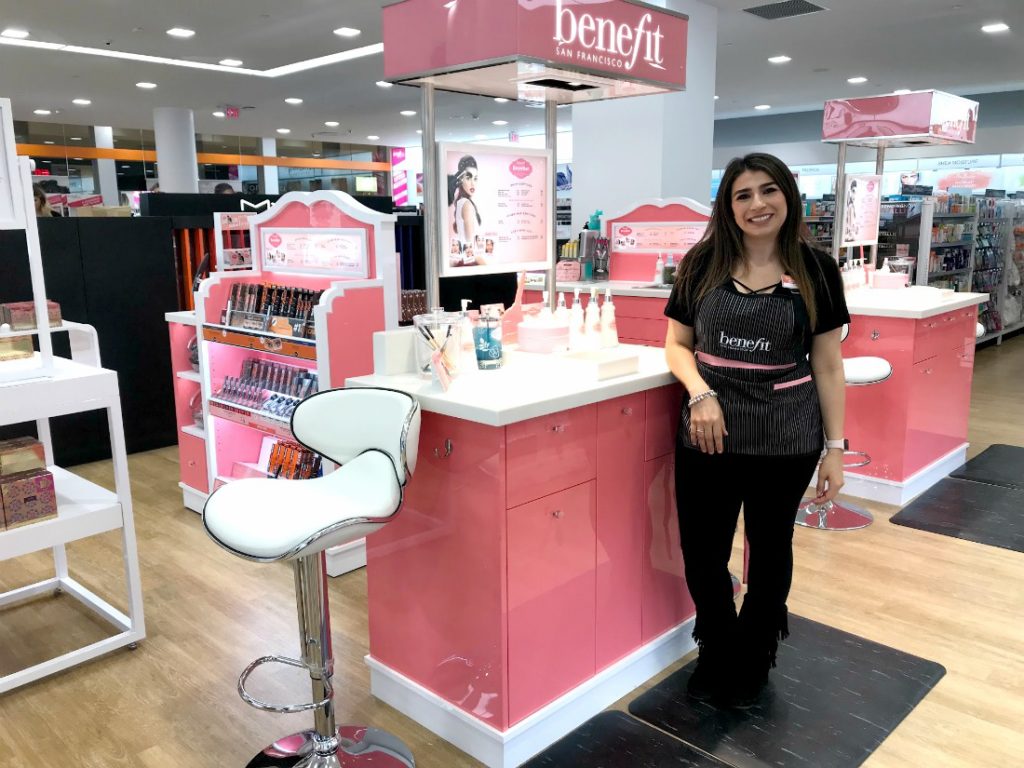 I had thought my brows wouldn't be too bad, I had just done them myself a few weeks prior. But when Anabel showed me where the shape should be (and how to determine that) I could tell my brows would need some help.
She first went through, measured distances from my nose, eyes, etc. and then she filled in where they should go. From there, we waxed off the extra, tweezed the tiny ones and trimmed them to make the perfect shape complete. Then she cleaned off the wax, added some cream to minimize redness, and used her magic to fill in my new eyebrows. Can you tell from the photo that they were so much better? It was by far the most thorough and face-changing eyebrow wax I've ever had and I'd definitely go back.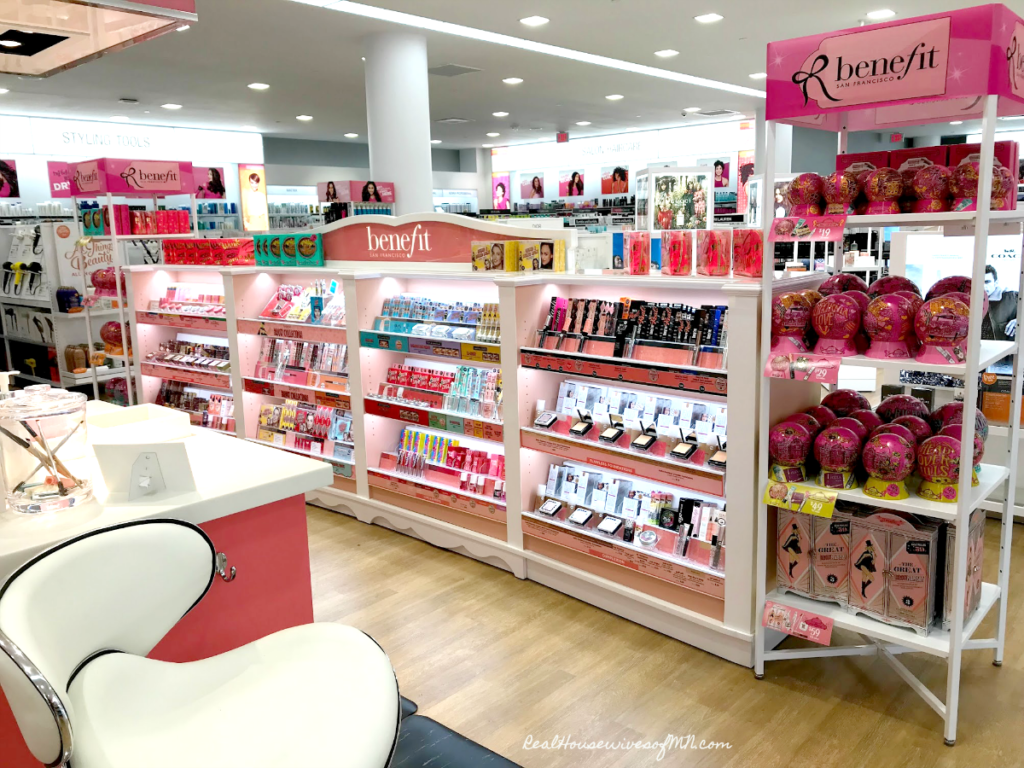 I had such an amazing experience there, and like I said, I will definitely be back. They gave me such a personal touch, which is hard to find these days. I felt like they listened to exactly what I was saying and they were just as excited as me to see the final product.
Such a great team, and a beautiful new store! Definitely check out the new Ulta Beauty next time you are at the Mall of America and see all the amazing products and services they have to offer. You won't be disappointed!
Sarah
PS – Like the look? Pin it for later below!