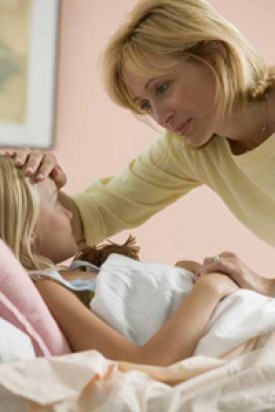 Just in time for Christmas, the family has officially caught the flu bug :- It started with our little bean. We are no stranger to spit-up, but this was full on puke (ew)! She was such a trooper though – it amazes me. She would throw up and carry on with her happy self. Well then it hit DH and my BIL (Who is living with us). Within 2 hours of each other, they were both running (no joke, running!) for the bathroom! They each spent the night in the bathroom hugging the toilet – Good thing we have more than one bathroom!!! I was hoping to goodness that I would be spared. After all, I did get my flu shot! But no such luck… I was lucky enough to not get the pukes like the rest of the family did, but to say I was feeling under the weather would be an understatement.
I don't want any of you to worry though – We are all feeling much better 😉
Some things that got us through:
1. Pepto Bismol
2. Pedialyte
3. Water, water, water
4. Chicken noodle soup
5. Gatorade
6. Oranges and bananas
The good news is, we should all be feeling back to normal by Christmas. The bad news is, I have been set back a couple days to get all my Christmas shopping and wrapping done. It seems I may be one of the crazies out on December 24th getting the last couple things. Yikes!
Lastly, I'm looking for some input! Here's my question…
What do you get a 10 month old for her first Christmas?!?!!?
Until next time,
Macy
P.S. Marshall's was the perfect place to go for Bean's Christmas outfit! I got her dress and the CUTEST boots for $17.00. The best part about it is the outfit isn't too fancy that she can't wear it again 🙂