Help Me Grow: Minnesota Company Helping With Child Development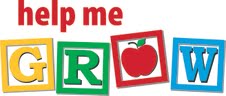 I recently had a Minnesota company reach out to me about their initiative and I really liked the idea. Below you will find out a little more about "Help Me Grow", who they are, and what they do!
If you have concerns about a young child's development, Help Me Grow offers a way to refer them for free help. The Minnesota statewide initiative connects children who have developmental delays and disabilities and their families to free early intervention services.
Early intervention is the best way to ensure a child's future success and development. The Help Me Grow initiative is unique because anyone – a parent, guardian, child care provider, educator or other adult – can refer a child age birth through five if they have concerns about the child's development. If the family decides to proceed with the referral, Help Me Grow connects them with a nearby school for a free screening or evaluation. Eligible children can receive free services in their home, childcare setting or school.  If not eligible, early childhood specialists can suggest community resources or early childhood programs.

It's easy to refer a child online or by phone. To refer online, visit helpmegrowmn.org and click the blue "Refer a Child" button. To refer by phone, call (866) 693-4769. The website also has valuable information about developmental milestones to help parents track their child's progress.
For more information about Help Me Grow, visit helpmegrowmn.org.