Cute Maternity Fashion for Winter
Well now that the cat is out of the bag, I can't help but write more baby-themed posts. Something that I've been trying to deal with lately is putting together cute maternity outfits that are suitable for winter. I think every pregnant woman wants to look great, maybe despite feeling like poo (at least that's my current situation – lol!) Here are some ideas for looking cute while expecting.
Cute Maternity Fashion by MNhousewives
1. Fleece-Lined Leggings – My favorite article of clothing right now is fleece-lined leggings or tights. They are comfortable, stretchy and very warm! I received a pair of fleece-lined tights from Kushyfoot that are super warm, and I found a few pairs of fleece-lined leggings at a few different stores as well. But the best deal I found was at Runnings where they had the same high-end brand that I'd bought for $20, and were selling them there for $7.99! So needless to say, I bought a few more… Also on the topic of leggings, I have a couple pair of 'jeggings' that have come to the rescue several times, especially when jeans might look nicer than leggings, but jeans are too uncomfortable.
2. Long Sweaters – Of course if you are going to wear leggings for pants, you're going to want to cover your tush. Lucky for us, long sweaters are in style right now and you can find them for affordable prices at places like Target, JCPenney's, Macy's, Nordstrom Rack or even Herberger's. Not only are they fashionable, they're also warm and it's like wearing a nice toasty blanket around 🙂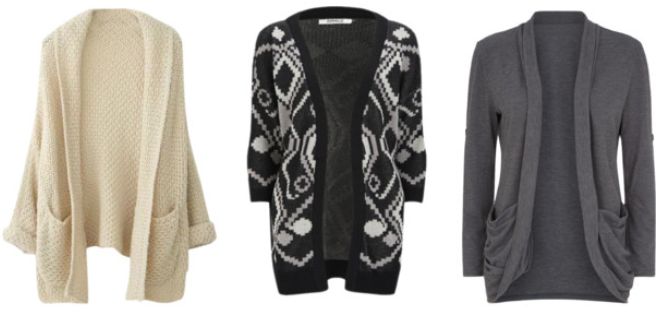 3. Layers – It helps feel like you're all swaddled yourself when you wear layers. Long tank tops, thermals, and long plaid button-ups are good essential pieces to pair together and make different options out of. Plus, layers also help to stay warm (not like you didn't know this) but also help you cool off by removing layers if you need to.
4. Comfortable Footwear – I've officially stored my heels away for the winter. They're just not quite practical, or stable on the snow and ice. Instead I've invested in cute Sorel boots, along with my Emu winter boots, to keep me warm and styling this winter. For socks, since I've been wearing a lot of leggings, I've really taken to tall cable-knit socks that are nearly knee-high. They poke out from under my tall boots a little bit and add a little flair to jazz up the fact that I'm wearing leggings and boots…
5. Long Tunics – These are seriously the best right now. They're flowy, they cover your bum, and they're very forgiving to a growing belly! Opt for different colors and simple patterns so that they're easy to pair with your sweaters and leggings.
6. Chunky Scarves – One of my favorite accessories right now is my thick cable-knit infinity scarf from Old Navy (I got it during one of their pre-Christmas sales for like $7) and I wear it all the time when I go out. It's super warm, but it also adds another element to an outfit if you don't feel like wearing jewelry. I love the infinity scarf style because it's super easy to put on and you don't have to adjust it really once it's on, plus I just like the way they look 🙂

Well those are my tips as of right now! Of course as the belly grows, I will have to do some more adapting of my wardrobe but as of now (18 weeks) these are my favorite essentials! I hope this helps give you some inspiration for your own wardrobe this winter.
Until next time,
Sarah

Don't miss a beat! Subscribe here for email updates and get a weekly roundup of my latest posts!