WBRC Birmingham News Feature
Wow! This most recent TV opportunity was a first for the books. I was contacted by Jonathan Hardison with WBRC News (Fox 6 in Birmingham) and he wanted to talk money-saving apps! I still don't know how he found me but it was a really fun feature, and a first for doing a television segment over Skype!
It was really a lot of fun, and kind of neat to see once it aired. Obviously I couldn't watch it here, so I had to wait until they put it up on their site. If you wanted to watch the clip, you can see it here: http://www.wbrc.com/story/37218958/money-saving-apps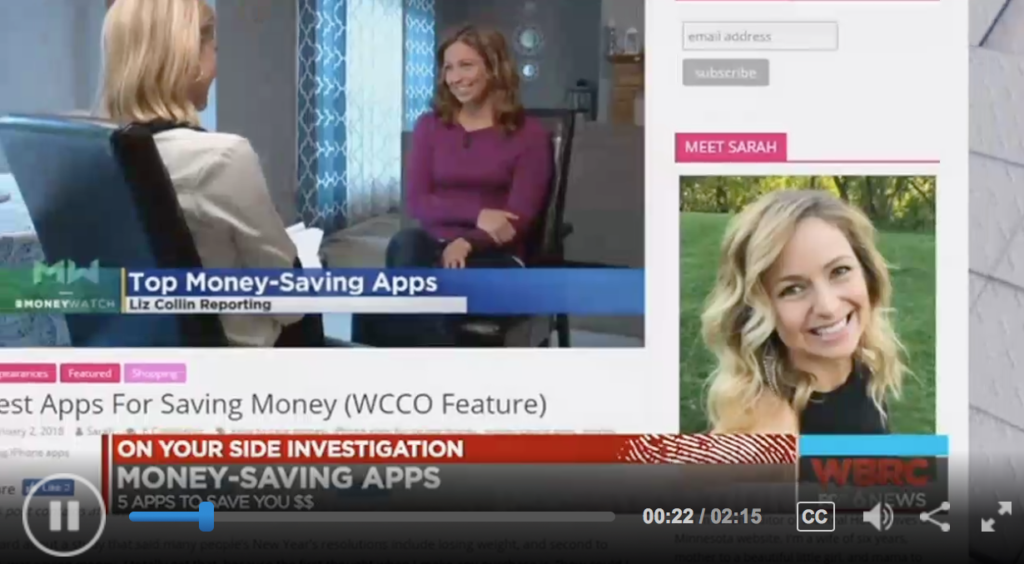 Now if you missed the apps that I mentioned, I'll give you a quick recap here. I have mentioned them previously in my last segment with WCCO, so luckily I had them all typed up and ready to rumble!
Shopkick
I'm going to start with my favorite app because if you don't read another word in this article, then hopefully at least you got to the most important one. I have been using Shopkick for years now, it's the easiest and simplest way to save money. You simply open the app as you walk into a store, and as soon as you get in the doors, you'll hear 'ding!' and you will have earned points.
It works with big stores like Target, Walmart, Walgreens, Aldi, Kohls, etc. (even outlet malls too!) While you're in the store, you can scan items for 'kicks' and with enough kicks you can redeem them for gift cards. I'll be honest, I only use it now when I walk into stores, I don't scan for kicks but I still earn gift cards and it's wonderful! You can sign up for Shopkick here.
ShopSavvy
This is another one of my all-time favorites. I use it whenever I'm making purchases at a store that will price match. You scan the barcode of the item you are buying, and ShopSavvy will scan the internet for better prices. When it comes up with the lower price, you click the link, and bring your phone and the item to customer service to have them price match. This has saved me loads over the years! Especially on major purchases. Check out the ShopSavvy app here.
Earny
This is a different kind of app, but it's actually pretty simple to use. The concept is easy, you register the cards or accounts that you online shop with, and Earny does the dirty work of tracking the items you purchase to see if the price drops. If it does drop within a certain timeframe, Earny submits a claim on your behalf to get the difference back.
The refund then goes back onto your payment you chose, just like that. They do keep 25% of your refund, but you're still walking away with money you wouldn't have had otherwise! Right now I have mine set up to track my Amazon account and it has found some great refunds for me which then go right back into my Amazon account. You can download the Earny app here.
Achievement
This is a great app for this time of year, as you are setting some new fitness/health goals. Achievement is a nice motivation app that gives you points for steps taken, hours slept, water drank, and that type of thing. After a while, you can accumulate these points and exchange them for straight cash via PayPal.
I recently cashed out my points for $50 that went straight to my PayPal, just for logging my steps (which automatically logs through your Fitbit or similar app). Start your Achievement account here.
PocketFlip
Looking to make a little 'coin' from home? PocketFlip allows you to play games or take surveys to earn coins and then ultimately exchange them for gift cards. Easy peasy. Download PocketFlip here.
Gift Card Granny
I'm a big fan of Gift Card Granny because it's just way too easy. Pick a store that you shop at regularly, purchase a gift card (for less than it's worth) and you're instantly saving money right from the start. I've done this a few times, mostly for Starbucks gift cards and Whole Foods as well. It's like having a 10% off coupon for your whole order without actually needing any coupons. You follow me? Sign up for Gift Card Granny now and see what deals you can find.
iBotta and Checkout51 
So these two apps work a little differently than the other apps. For these two apps, you'll make the purchase first and then submit your receipt afterwards for 'cash back'. Once you reach a certain amount, you'll be able to get that money deposited out to you. The nice thing is, you can use both of these apps at the same time, there's no exclusivity so it's like double cash back sometimes! You can find iBotta here and Checkout51 here!
---
I hope you found these useful! Leave a comment below if you have any that you love.
Hearts,
Sarah

Don't miss a beat! Subscribe here for email updates and get a weekly roundup of my latest posts!