Guest Post: Silver Lining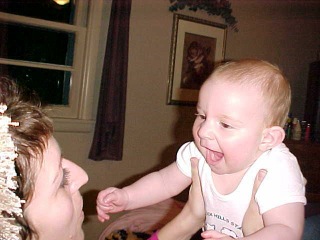 A new baby at home can be utterly exhausting. Any mom who's just brought her bundle of joy home from the hospital can attest to that fact. Even me. My husband Cam and I welcomed our baby girl, Lily, into the world on August 5, 2005 via emergency C-section. Perfect. Sweet. An angel. Our extended family was beyond thrilled at its newest member and we were on cloud nine.
I was tired, but it was a tired beyond having a baby and returning to a full-time job. I was exhausted and breathless a lot of the time. Because I felt in my gut something was wrong, I went to my doctor with my concerns. After a battery of tests, I finally had my answer.
The news was not good. I was diagnosed with mesothelioma cancer.
Here I was, a mom with a three-and-a-half month old baby at home, and I had cancer. In that instant, when the doctor delivered the diagnosis, my world came crashing down. It was unfair. I'd been unknowingly exposed to asbestos when I was a child and some thirty years later that exposure had resulted in cancer in the lining of my lung. The tiredness and lack of energy that I had first attributed to being a new mom had been symptoms of this disease within me.
Fifteen months. That's how long I was told I could live – if I chose to do nothing. A ton of thoughts swirled through my head and at their forefront was my Lily. It didn't matter how dire the diagnosis or prognosis was; I was going to fight. My husband and I flew from our Minnesota home to Boston where I entered the care of one of the best mesothelioma doctors in the country. On February 2, I underwent the removal of my left lung and all of the surrounding tissue and followed that harrowing procedure with eighteen days in the hospital plus another two months recovery before starting chemotherapy and then radiation.

All this time, my baby girl lived with my parents, in my childhood home in South Dakota. A wonderful group of family and friends gathered around my parents and Lily to help care for her while I fought cancer and they kept me up to date through photos that Cam would print out on the community printer at the hospital. The nurses and I would all try to hold back tears while we looked at beautiful Lily living happily with my parents. I missed her so much during those times but I knew I was doing what I needed so that I could be there for her throughout her life.
It's not been an easy road by any means, being a new mom with a deadly diagnosis. There is a silver lining in all of this, though. Though cancer is a terrible disease, it has brought my family closer together than ever before and it's made me appreciate everything in my life. Especially Lily.  As a family, we try to appreciate every single day, and all the little things.  We laugh a lot and are very grateful to have what we have.
Update – May 16, 2013
Heather recently did a video that I wanted to share with you guys. See it here:
Guest Blogger Bio
Heather Von St James is a 43-year-old wife and mother. Upon her diagnosis of mesothelioma, she vowed to be a source of hope for other patients who found themselves with the same diagnosis. Now, over 6 years later, her story has been helping people all over the globe. She continues her advocacy and awareness work by blogging, speaking and sharing her message of hope and healing with others. Check out her story at the Mesothelioma Cancer Alliance Blog.